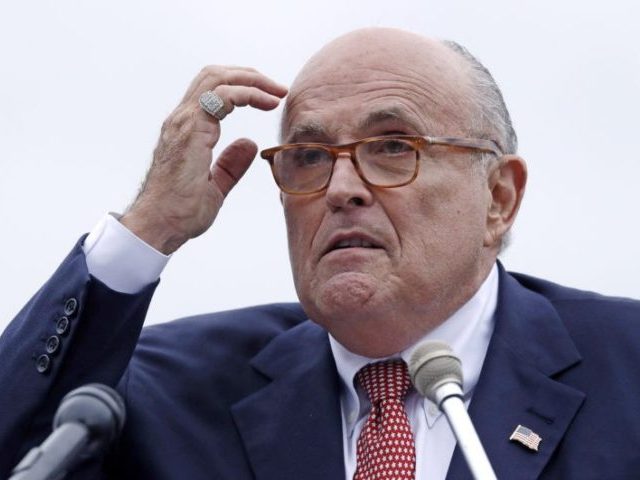 President Donald Trump's personal lawyer, Rudy Giuliani, blasted special counsel Robert Mueller Thursday morning, stating it is "hardly coincidental" that Michael Cohen was charged as the president prepares to attend the Group of 20 summit in Argentina.
"Michael Cohen is a liar. It's no surprise that Cohen lied to Congress," a statement released by Giuliani begins. "He's a proven liar who is doing everything he can to get out of a long-term prison sentence for serious crimes of bank and tax fraud that had nothing to do with the Trump Organization. It is important to understand that documents that the Special Counsel's Office is using to show that Cohen lied to Congress were voluntarily disclosed by the Trump Organization because there was nothing to hide."
The Trump lawyer said it "is hardly coincidental" that Mueller "once again" filed charges against Cohen "just as the President is leaving for a meeting with world leaders" at the annual summit. "The Special Counsel did the very same thing as the President was leaving for a world summit in Helsinki," Giuliani noted.
The U.S. Attorney's Office for the Southern District of New York actually brought charges against Cohen on August 21, following President Trump's summit with Putin. According to Lanny Davis, Cohen's counsel, the moment was a turning point for his client. Cohen was charged with eight counts of campaign finance violations, bank fraud, and tax fraud. Mueller refered the case to New York-based investigators.
"Helsinki was a significant turning point, as he worried about the future of our country with the president of the United States aligning with somebody who everybody in his intelligence community… said interfered and tried to help Trump get elected," Davis told MSNBC in an interview. "Trump is the only one left denying that. And that shook up Mr Cohen."
Earlier Thursday, Cohen pleaded guilty in a federal courtroom in Manhattan for making false statements to Congress regarding work he conducted on a real estate project in Russia. The former Trump lawyer admitted to lying before the Senate Select Committee on Intelligence in 2017 regarding a possible deal construct a Trump Tower in the Russian capital of Moscow. ABC News reports that Cohen has given 70 hours of testimony to Mueller investigators.
The Guardian reports:
[Cohen] said on Thursday that Trump continued trying to develop a tower in Russia months into his campaign for the US presidency.

Cohen made the explosive allegation, which directly contradicts previous statements by him and Trump, while pleading guilty to lying to Congress in a deliberate attempt to hinder the Trump-Russia investigation.

Cohen said that efforts to construct a Trump property in Moscow, the Russian capital, actually continued until June 2016 – several months more than he has said previously. By that time, Trump was the presumptive Republican presidential nominee.

In August last year, Cohen told congressional investigators in a statement that in January 2016 it was decided the Moscow development "was not feasible for a variety of business reasons and should not be pursued further".
Reacting to the guilty plea, President Trump slammed Cohen as a "weak person" and pushed back against possible wrongdoing related to business dealings during his presidential run. "He is a weak person… Michael Cohen is lying and he's trying to get a reduced sentence for things that have nothing to do with me," Trump told reporters on the White House lawn. "I was running my business while I was campaigning," he added. "There was a good chance that I wouldn't have won, in which case I would have gotten back into the business, and why should I lose lots of opportunities?"
http://feedproxy.google.com/~r/breitbart/~3/CTD3ykVYbgA/