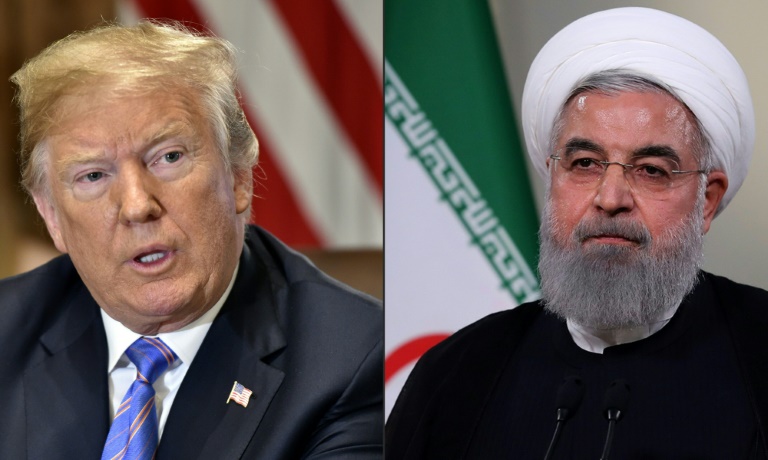 TEL AVIV – The U.S. is looking to oust the current Iranian regime and is the most hostile administration in the four decades since the founding of the Islamic Republic, Iranian President Hassan Rouhani said on Sunday.
"In the past 40 years there has not been a more spiteful team than the current US government team toward Iran, Iranians and the Islamic Republic," Rouhani said in a speech broadcast on state TV.
The U.S. and Iran have been at loggerheads since President Donald Trump's May withdrawal from the nuclear accord, which Trump deemed "the worst deal ever," partly because it placed no limits on Tehran's ballistic missiles program or its support for terror proxies in Syria, Yemen, Lebanon and Iraq.
"There was a time when there was one person who had enmity. The rest were moderate. Now … the worst have gathered around each other," Rouhani said in the speech, which marked the beginning of the academic year at Tehran University.
A spokesman for the State Department reiterated that while it desires to see a change in Iran's behavior "the United States is not seeking regime change."
He said Trump has stated that he was willing to negotiate with Iran on a deal that would also see more supervision on its missile program, support for terrorism and "malign regional behavior."
"Our hope is that ultimately the regime will make meaningful changes in its behavior," he added.
Rouhani accused the Americans of using psychological and economic warfare and questioning the legitimacy of the Islamic Republic.
"Reducing the legitimacy of the system is their final goal. When they say getting rid of, regime change in their own words, how does regime change happen? Through reducing legitimacy, otherwise a regime doesn't change," he said, switching to English for the last words for emphasis.
The U.S. implemented measures against Iran's currency, metal and auto trade in August and is set to impose sanctions on oil exports next month.
Vice-President Eshaq Jahangiri attempted to quell fears of another economic crisis like the one that resulted from crippling sanctions between 2012-2015, saying that Iran has found new clients to buy its oil.
"America will certainly not be able to reduce Iran's oil exports to zero," he said.
"America thinks Saudi Arabia can replace this oil. But right now Iran's oil has reached more than $80 and with half the previous exports we will have the same income as before," he stated, according to comments published on the Islamic Republic of Iran Broadcasting's website.
http://feedproxy.google.com/~r/breitbart/~3/4M911qI0-88/