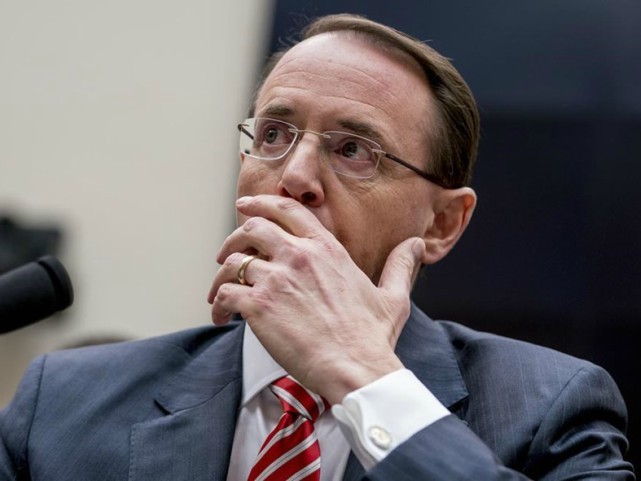 House GOP leadership has agreed to have Deputy Attorney General Rod Rosenstein testify to Judiciary Committee Republicans behind closed doors in the upcoming weeks about a number of items, according to a GOP aide.
If Rosenstein does not show up for the hearing, Republicans will subpoena him, according to Politico, which first reported the meeting Friday morning.
Among the Republicans set to question Rosenstein are committee Chairman Bob Goodlatte (VA), and Reps. Mark Meadows (NC), John Ratcliffe (TX), Jim Jordan (OH), Trey Gowdy (SC), and Ken Buck (CO).
Rosenstein could face questions over a New York Times report saying he suggested wearing a wire when talking with President Trump in the Oval office, and discussed invoking the 25th Amendment to remove him from office.
Rosenstein has called the report inaccurate, but Trump called a meeting with him on Thursday, which was postponed so that it would not interfere with the Senate hearings for Supreme Court nominee Brett Kavanaugh and a woman accusing him of sexual assault, Christine Blasey Ford.
During the hearing with Ford on Thursday, White House press secretary Sarah Sanders sent out the short statement: "The President spoke with Rod Rosenstein a few minutes ago and they plan to meet next week. They do not want to do anything to interfere with the hearing."
When asked during a wide-ranging press conference on Wednesday whether he would remove Rosenstein, Trump said, "We'll see."
Rosenstein currently oversees the special counsel investigation into whether the Trump campaign colluded with Russia. After the Times' report, Trump critics expressed worry that the president could fire Rosenstein and end the special counsel investigation.
However, some Trump allies in Congress cautioned not to take the Times' report at face value, and said they would look into the allegations.
Trump had also ordered the Justice Department to declassify certain documents Republican lawmakers have requested to be declassified, but changed his mind after the DOJ said it would have a perceived negative impact on the special counsel probe, and "key allies" asked him not to.
Instead, Trump said the DOJ has asked the DOJ Inspector General to review the documents on an expedited basis, and that he could declassify them if proven necessary. The DOJ IG is reviewing whether the DOJ or the FBI acted with bias in its investigation of the Trump campaign.
http://feedproxy.google.com/~r/breitbart/~3/zrXXN513Qk4/