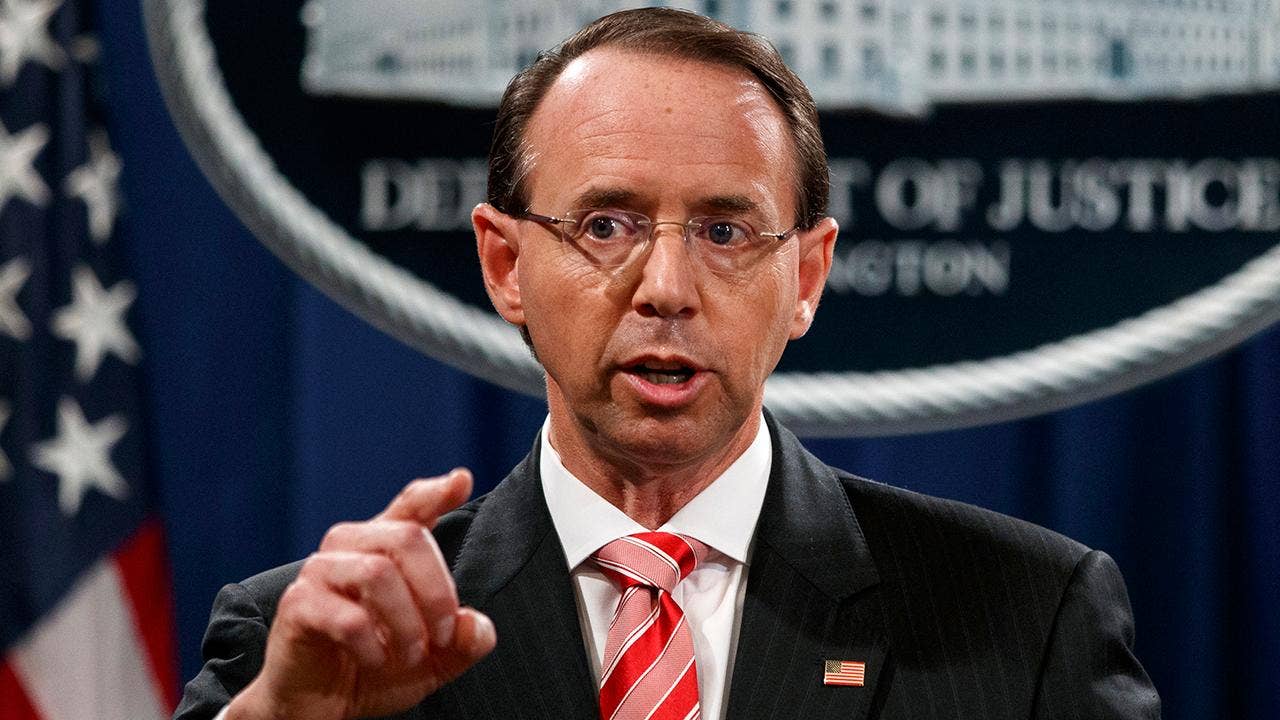 The Trump administration was rocked Friday afternoon by a bombshell report saying Deputy Attorney General Rod Rosenstein last year suggested secretly recording President Trump to expose chaos in the White House and enlisting Cabinet members to invoke the 25th Amendment to remove him from office.
Rosenstein adamantly denied the accusations. 
"The New York Times's story is inaccurate and factually incorrect," he said in a statement to Fox News. "I will not further comment on a story based on anonymous sources who are obviously biased against the department and are advancing their own personal agenda. But let me clear about this: Based on my personal dealings with the president, there is no basis to invoke the 25th Amendment." 
But the article is sure to roil a White House already suspicious of some elements within the DOJ and FBI, as President Trump complains regularly about the Russia probe he calls a "witch hunt." Rosenstein oversees that probe. 
The explosive report, published by The New York Times, said Rosenstein had discussed wearing a "wire" to tape Trump and his removal from office in meetings and conversations with Justice Department and FBI officials. This would have been in the tumultuous days after James Comey was fired as FBI director, with the president citing in part a memo penned by Rosenstein — reportedly catching him off guard. 
Rosenstein even reportedly suggested that those interviewing with the president to replace Comey as director of the FBI wear wires to secretly tape him.
According to The Times, none of Rosenstein's proposals were acted upon and it remains unclear the level of seriousness Rosenstein had when making the suggestions.
Fox News has learned a key meeting took place on May 16, 2017 at Justice Department headquarters. During the meeting, the subject arose of the possibility of appointing a special counsel to investigate Russia election meddling, according to a source. Several people were in the room, including former FBI Deputy Director Andrew McCabe and former FBI counsel Lisa Page. Robert Mueller was appointed as special counsel the next day. 
"I remember this meeting and remember the wire comment," a source who was in the room told Fox News. "The statement was sarcastic and was never discussed with any intention of recording a conversation with the president."
Further, The Washington Post quoted an unnamed individual saying Rosenstein quipped sarcastically after McCabe pushed for an investigation into the president, saying, "What do you want to do Andy? Wire the president?" 
The Times' quoted other sources who said Rosenstein was serious, however. 
Rosenstein also reportedly told McCabe that he might be able to persuade Attorney General Jeff Sessions and then-Homeland Security Secretary John Kelly—now White House chief of staff—to begin proceedings to invoke the 25th Amendment.
Details, according to The Times, were confirmed by sources who were briefed on the discussions or memos written about the discussions, by McCabe and others.
McCabe's attorney issued a statement apparently acknowledging that such memos exist.
"Andrew McCabe drafted memos to memorialize significant discussions he had with high level officials and preserved them so he would have an accurate, contemporaneous record of those discussions," McCabe's attorney Michael Bromwich said in a statement. "When he was interviewed by the Special Counsel more than a year ago, he gave all of his memos — classified and unclassified — to the Special Counsel's office. A set of those memos remained at the FBI at the time of his departure in late January 2018. He has no knowledge of how any member of the media obtained those memos."
The Special Counsel's office declined to comment. 
The White House declined to comment on the report, but Trump's eldest son tweeted that "no one is shocked."
"Shocked!!! Absolutely Shocked!!! Ohhh, who are we kidding at this point? No one is shocked that these guys would do anything in their power to undermine @realDonaldTrump," Donald Trump Jr. tweeted Friday, with a link-out to The Times report. 
The report immediately touched off speculation Friday that the details could be used to pursue Rosenstein's ouster. 
"This story must not be used as a pretext for the corrupt purpose of firing Deputy Attorney General Rosenstein in order install an official who will allow the president to interfere with the Special Counsel's investigation," Senate Democratic Leader Chuck Schumer said. "Generals Kelly, Mattis and numerous other White House and cabinet officials have been reported to say critical things of the president without being fired."
Rosenstein took over as the top Justice Department official overseeing the Russia investigation, upon Sessions' recusal in 2017 due to his involvement with the Trump campaign—a decision causing immense friction between the attorney general and Trump to this day. 
Before that, Rosenstein had penned a memo to Trump that helped provide the justification for firing Comey, saying he was "wrong to usurp the Attorney General [Loretta Lynch]" on July 5, 2016 when he announced he would not recommend Hillary Clinton be prosecuted for alleged offenses related to the presence of classified information on her personal email server.
A week later, on May 17, 2017, after Comey's firing, Rosenstein appointed Mueller to oversee the federal investigation into Russian meddling and potential collusion with Trump campaign associates in the 2016 presidential election.
http://feeds.foxnews.com/~r/foxnews/politics/~3/mZaNRmK2c08/rosenstein-reportedly-discussed-wearing-wire-invoking-25th-amendment-against-trump.html