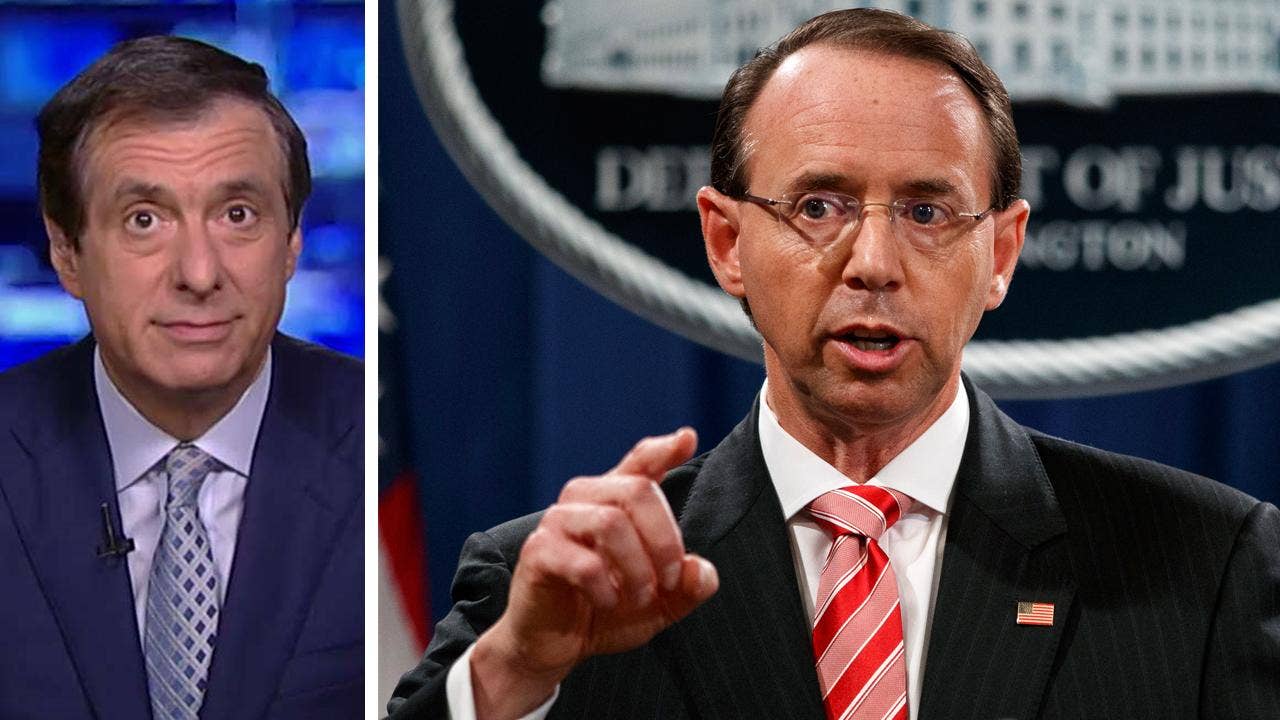 No one knows whether Rod Rosenstein will be deputy attorney general past Thursday, just as no one knew whether he'd been fired or dumped during the media craziness over his sojourn to the White House.
But with his job in jeopardy, to say the least, the stakes remain sky-high.
The original take of much of the media world was that President Trump was pushing out his No. 2 appointee at the Justice Department, and that all hell would break loose. This was obviously a political massacre, the narrative goes, a blatant attempt by Trump to cripple the Mueller investigation, by ousting the man who named the special counsel and is overseeing what the president views as a witch hunt.
And once Rosenstein's acting replacement was named, whether it's Solicitor General Noel Francisco or someone else, that person would be viewed as a hatchet man to rein in Mueller's out-of-control probe.
But now we're learning that the whole episode began with Rosenstein's desire to quit.
Last Friday, says The New York Times, the deputy AG "had become convinced that he should resign, according to people close to him. He offered during a late-day visit to the White House to quit, according to one person familiar with the encounter, but John F. Kelly, the White House chief of staff, demurred."
The trigger, of course, was the Times piece last week that said Rosenstein had talked of secretly taping Trump and polling Cabinet members on the 25th Amendment back in 2017. Rosenstein denied the story, and other news outlets quoted sources as saying he was being sarcastic with the comments about wearing a wire.
But Rosenstein was wary of the Hill summoning him to testify about the story, and raised the issue of resignation on Sunday with White House counsel Don McGahn—who was kinda busy with that Kavanaugh matter.
We learn that as Rosenstein was headed to the White House on Monday — expecting to be fired, according to the leaks that sparked the media frenzy — the Justice Department even drafted a press release about his departure.
"Mr. Rosenstein was emotional, according to people familiar with his meeting with Mr. McGahn. Mr. Rosenstein wanted to leave on amicable terms, not in a manner that would trigger an angry Twitter tirade from Mr. Trump," the Times says.
Which is not that hard to imagine.
Trump can't stand Rosenstein, given his role in the Russia probe. But my sense is that the president is not looking to fire him, at least not right now. He knows it would create a political explosion weeks before the midterms. After that, who knows?
But let's say Rosenstein tells Trump in their Thursday meeting that he wants out. That he's burned out, that he's tired of the criticism, that he feels unfairly targeted, that the press is distorting his record, and it's time to move on.
Some might see that as a windfall for the president, being able to get rid of a nemesis while telling the world it was Rosenstein's idea.
But that's not what would happen.
The media would go into Saturday Night Massacre mode, using whatever day of the week it happened to be, saying that regardless of Rosenstein's wishes he had been forced out by Trump. Most of the commentators would say that Rosenstein was doing his job, Jeff Sessions backed him, but that the president had made his situation intolerable with his constant attacks on law enforcement.
There would be talk of a constitutional crisis and hand-wringing over the fate of the Mueller investigation and how it undoubtedly would be wounded by whatever DOJ underling was now in charge to do Trump's bidding.
Fairly or unfairly, the media widely view Rod Rosenstein — Harvard Law grad, Republican, former U.S. attorney in Baltimore — as the one man who can ensure the integrity of the Mueller investigation.
If Rosenstein is determined to resign, his life would be a lot less complicated. But his departure would be a political bomb exploding right in front of the president, regardless of who lit the fuse.
http://feeds.foxnews.com/~r/foxnews/politics/~3/2aSOkmWFDPs/rosenstein-eyeing-resignation-but-his-departure-would-cause-firestorm.html