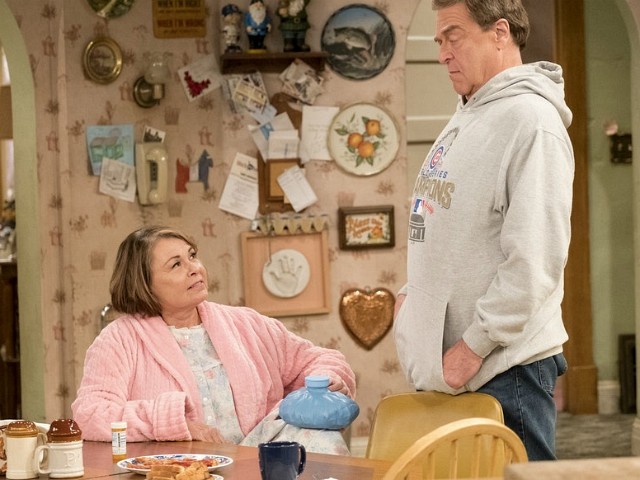 Roseanne Barr, the former star of ABC's hit sitcom, Roseanne, says the network intends to kill her character off via an opioid overdose ahead of the impending debut of the re-re-booted the hit ABC show.
"Oh yeah, they killed her," Barr told Brandon Straka on his YouTube show Walk Away. "They have her die of an opioid overdose."
The coming death knell comes after a season cliffhanger where Roseanne Connor, the family matriarch, was struggling with an addiction to painkillers.
Barr was fired from her hit sitcom after she tweeted out a political attack on former Obama adviser Valarie Jarrett that many people assumed was a "racist" attack on the half black and half Iranian former official.
Barr always maintained that the tweet had nothing to do with Jarrett's race and was an attack on Jarrett's and Obama's failed Middle East policies. Still, Barr had been upsetting left-wing Hollywood for months before the Jarratt tweet with her support of President Donald Trump and her increasing turn toward center-right political ideas.
After firing her, ABC also cancelled her show despite the fact that it was the highest rated show on TV for the 2017 fall season. But hoping to prove that Roseanne isn't an indispensable part of the long-running series, liberals demanded that the series be re-configured without Barr's central character.
The question has remained, just how will the show eliminate its main character?
In August, Barr's long-time co-star, John Goodman, admitted that the show would actually kill off the family matriarch. But he did not elaborate on how that would happen.
Goodman also defended his Roseanne co-star and said he knows for a fact that Barr is not a racist.
The Roseanne spin-off of sorts to be titled The Connors which is set to debut October 16, 2018
Follow Warner Todd Huston on Twitter @warnerthuston.
http://feedproxy.google.com/~r/breitbart/~3/4TkFq4qVmVI/