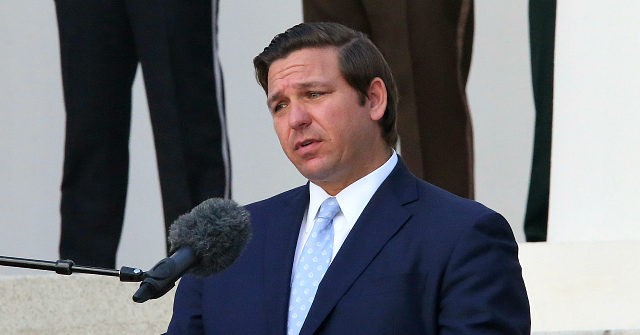 Gov. Ron DeSantis is set to sign a ban on sanctuary cities in Florida that shield criminal illegal aliens from deportation in a historic victory for his administration.
For years, Florida Republicans have attempted — but failed — to ban sanctuary cities across the state, which has one of the largest illegal alien populations in the U.S. with at least 775,000 illegal aliens.
When DeSantis swept to victory last year in the state's gubernatorial election against the pro-open borders Democrat candidate Andrew Gillum, he promised to crack down on illegal immigration, an initiative opposed by many of the state's Republican establishment, including former Gov. Jeb Bush (R).
Now, less than a year after his election, DeSantis is set to sign into law a ban on sanctuary city jurisdictions in Florida, whereby if a county or locality is implementing sanctuary policies, the governor will be able to bring judicial proceedings against sanctuary city officials.
DeSantis said Florida is a "stronger" state when American citizens are protected:
I thank the Florida Legislature for presenting me with a bill that upholds the rule of law and addresses sanctuary cities and counties in Florida. We are a stronger state when we protect our residents, foster safe communities and respect the work of law enforcement.

— Ron DeSantis (@GovRonDeSantis) May 2, 2019
For years, establishment Republicans and Democrats in Florida have falsely claimed that there are no current sanctuary cities in the state that protect criminal illegal aliens from being deported from the country.
Currently, Alachua County, Florida, refuses to turn illegal aliens over to the Immigration and Customs Enforcement (ICE) even after a national is accused of a crime. Likewise, West Palm Beach County, Florida, bans local officials from aiding ICE with investigations into criminal illegal aliens. Miami-Dade County was formerly a sanctuary city before reversing its policies following threats from President Donald Trump's administration.
DeSantis's historic victory in gaining support for his sanctuary city ban is particularly significant in a state like Florida. Once being signed into law, it will be only the second state in the country with one of the largest foreign-born populations to outlaw the protection of illegal aliens. The first state with a large foreign-born population to implement a sanctuary city ban was Texas.
Today, Florida has the fourth largest foreign-born population in the county, with more than 4.1 million illegal aliens, legal immigrants, and foreign-born naturalized citizens. California, Texas, and New York continue to have the largest foreign-born populations in the county. California, a sanctuary state, has almost as many foreign-born residents as New York, Texas, and Florida combined, with more than 10.5 million illegal aliens, legal residents, and foreign-born naturalized citizens living in the state.
John Binder is a reporter for Breitbart News. Follow him on Twitter at @JxhnBinder. 
http://feedproxy.google.com/~r/breitbart/~3/m_YwpTqYTts/