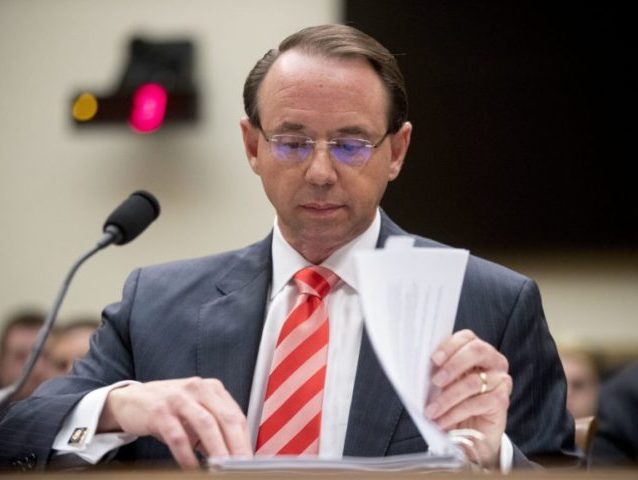 Deputy Attorney General Rod Rosenstein will appear in front of Congress after all, next Wednesday, for a transcribed interview, House Judiciary Committee Chairman Bob Goodlatte (R-VA) and House Oversight and Government Reform Committee Chairman Trey Gowdy (R-SC) announced Thursday evening.
The interview will be conducted by Goodlatte, Gowdy, and Ranking Members Jerry Nadler (D-NY) and Elijah Cummings (D-MD). A court reporter will be present and the interview will be under oath. Afterward, the transcript will be reviewed by the Intelligence Community and, once cleared for classified or other protected information, it will be publicly available.
Rosenstein's interview comes after he canceled one with lawmakers last week, after meeting with President Trump. After flying with Trump to Orlando on Air Force One last week, he told lawmakers he could not come in, infuriating members.
The New York Times reported last month that Rosenstein had suggesting wearing a wire when talking to Trump in the Oval Office and discussed the possibility of Cabinet officials invoking the 25th Amendment to remove the president. Since then, lawmakers have wanted to question him on the report. Rosenstein has denied the reports are accurate.
In recent days, GOP lawmakers have been making public statements criticizing Rosenstein for trying to evade scrutiny in hopes that Democrats take the House and shut down Republican inquiries. Rosenstein gave a lengthy interview this week to the Wall Street Journal, further angering lawmakers.
"It was interesting that yesterday, Rod Rosenstein has time to sit down with the Wall Street Journal, do a big, long interview, where he said the Mueller investigation is appropriate and moving in the right direction," Rep. Jim Jordan (R-OH) said Thursday, according to the Washington Examiner.
"And yet, he can't come talk to Congress about the idea that he made a statement about recording the president of the United States?"
Rep. Mark Meadows (R-NC) called for Rosenstein to step down, citing new information from a recent interview with former top FBI lawyer James Baker.
"Based on additional information we've learned over the last week, it is clear Rod Rosenstein should resign immediately. He has not cooperated with Congress, failed to be transparent about his actions, and shown a lack of candor in the way he's characterized a number of events," Meadows tweeted.
Based on additional information we've learned over the last week, it is clear Rod Rosenstein should resign immediately.

He has not cooperated with Congress, failed to be transparent about his actions, and shown a lack of candor in the way he's characterized a number of events.

— Mark Meadows (@RepMarkMeadows) October 18, 2018
http://feedproxy.google.com/~r/breitbart/~3/xVdU26mStJo/