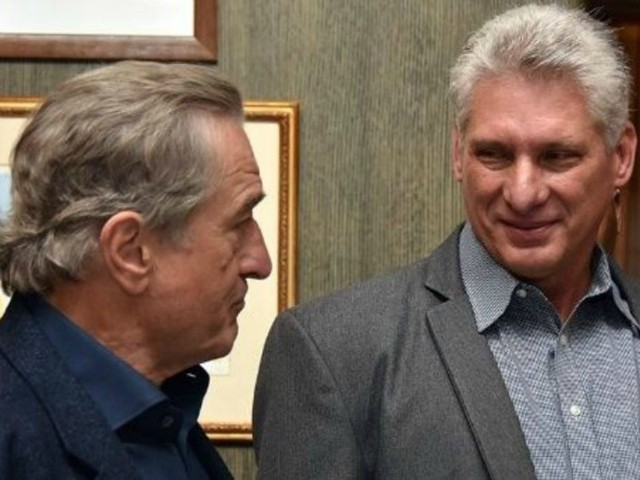 Actor Robert De Niro organized a celebrity meeting with Cuban dictator Raúl Castro's subordinate, Miguel Díaz-Canel, in New York this weekend.
Díaz-Canel, who carries the title of "president" but is outranked by the head of the Communist Party, Castro, was in New York to deliver an address at the United Nations General Assembly. New York leftists have taken the opportunity to organize receptions in his honor, attacking the United States for supporting democracy and human rights in Cuba.
The meeting took place in the Dakota building, where Beatles star John Lennon was assassinated. De Niro organized the meeting alongside founders and organizers of New York's Havana Film Festival. He invited a bevy of Hollywood celebrities, including Harry Belafonte, Coldplay's Chris Martin, director Darren Aronofsky, and rapper Nas; more than 30 celebrities attended the meeting.
During the event, De Niro criticized President Donald Trump's decision to roll back former President Barack Obama's "Cuban Thaw," a policy that led to a dramatic surge in human rights violations on the island. De Niro argued, "Good neighbors talk, good neighbors share, good neighbors do not build walls, and that culture serves to build bridges," according to leftist propaganda network TeleSur.
"While there are many problems between the two countries, I hope they eventually disappear, but the current (U.S.) President is not helping with the situation," De Niro said. "I love going to Cuba, I did not know I was so known there, people took pictures of me, they followed me, I was surprised, it was something wonderful":
President Diaz Canel meets Robert De Niro, Jane Rosenthal and other leading artists, producers, authors. Let's support cultural exchange #Cuba – US pic.twitter.com/N9HMJnGK6h

— José Ramón Cabañas (@JoseRCabanas) September 28, 2018
TeleSur claimed Díaz-Canel "expressed his gratitude for being invited by the U.S. artists and wished for more cultural ties in the future" while also recalling "artistic links between the two countries," such as links in jazz and author Ernest Hemingway's fondness for Cuba.
Díaz-Canel brought with him to New York the typical belligerence of his communist regime and has caused a series of violent and anti-democratic incidents in Manhattan. At the U.N. General Assembly, Díaz-Canel used his time to attack "capitalism" and condemn President Donald Trump for challenging U.N. member nations to reject socialism. He stayed in the city for much of the week, prominently attending an event at a church in Harlem with Venezuelan dictator Nicolás Maduro.
At the Harlem event, Cuban state security disregarded American norms of freedom of speech and press, intimidating and threatening journalists as they kicked them out of the event, preventing full coverage of the remarks given.
Univisión's Mario Vallejo recorded an alleged Cuban government "journalist" attacking him and trying to take his camera away for filming a small gathering of communist sympathizers on Manhattan streets:
During remarks with Díaz-Canel, Robert De Niro did not mention this attack or the censorship and assault of American journalists in the nation's largest city. He has not shied away from using harsh language against President Trump, however, accusing him of insufficiently valuing human rights.
In June, he used a speech in front of high school students to call Trump a "mean-spirited, soulless, amoral, abusive con-artist son of a bitch." He has also compared him to Adolf Hitler and spoke of his desire to "punch him in the face."
During the weekend, De Niro also gave a speech at the Global Citizen Festival, where he urged people to vote in America's upcoming midterm elections, a privilege not available to those in Diaz-Canel's Cuba.
"Look at all of you," the actor said as he began to address the audience at the star-studded event. "You're at this amazing concerting because you took your responsibility as global citizens seriously. You took the time to join with other citizens to make a difference. Now we're asking you to take your responsibly as U.S. citizens seriously by voting."
De Niro is far from the only Hollywood star to be seduced by Cuba's communist leaders. During his rule of the island for more than 50 years, Fidel Castro held meetings with the likes of Oliver Stone, Steven Spielberg, Jack Nicholson, and Robert Redford.
Follow Ben Kew on Facebook, Twitter at @ben_kew, or email him at bkew@breitbart.com.
http://feedproxy.google.com/~r/breitbart/~3/QBkaykShnhk/