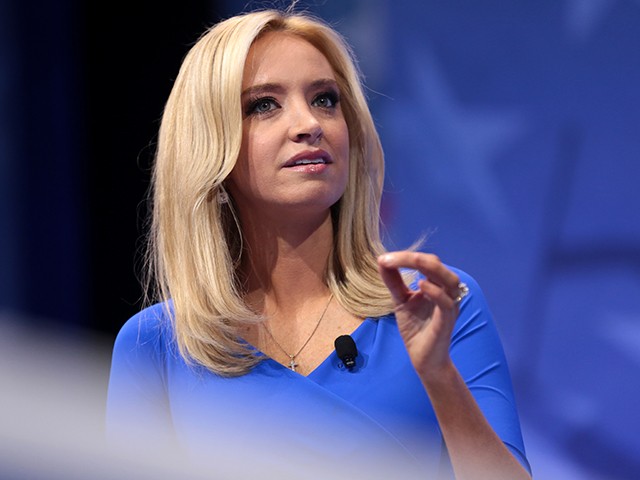 Breitbart News' Rebecca Mansour and Joel Pollak asked Republican National Committee (RNC) spokesperson Kayleigh McEnany on Tuesday evening whether anyone in the Republican leadership was being held accountable for losing the U.S. House of Representatives.
Her answer: "President Trump wasn't on the ballot" during November's midterm elections. McEnany added that "accountability should rest with the individuals who lost their races."
The RNC spokesperson and former CNN contributor offered her analysis on Tuesday's edition of SiriusXM's Breitbart News Tonight.
Pollak challenged McEnany about the RNC's claims that the midterm election was a success, and the sense that no one was being responsible for losing the House.
"I feel that Republican voters don't have anybody to hold accountable for the loss of the House," said Pollak. "In the British parliamentary system it doesn't matter how well you do in the election if your party loses, the leader reigns and they let someone else do it. In Donald Trump's world, on the the TV show The Apprentice, when there were two teams divided up and they had a task to complete, it didn't matter if the losing team did a great a job. If they lost they had to send someone home, or Donald Trump would send someone home from the team."
Pollak continued, "Who's taking responsibility for losing the House? I see a lot of people taking credit for holding onto a Senate seat here and there. Is nobody saying, 'Hey, this was our fault. We neglected suburban women,' or, 'We didn't invest enough in getting these absentee ballots in places where they weren't voting early. We didn't formulate a health care policy.'? I just want to know, is anybody standing up and saying, 'We failed, and we need to do better. Maybe we need new people to do better.'? Is there accountability happening? My fear is that nothing is going to change. Everybody is patting each other on the back and we're going to head into 2020 and get wiped out."
McEnany replied that the losing candidates themselves were to blame.
"The accountability should rest with the individuals who lost their races," she said. She added: Most of the time, the individuals who lost were folks who did not welcome the president to their districts, who did not stand by the Trump agenda, [and] who distanced themselves from the presidency and all [its] successes. The individuals who lost, and there are many names … were people by and large who separated themselves from the Trump presidency.
"It should be a lesson for all of those as we move forward into 2020 that the president's agenda is a winning one," she added. "You see it in the right direction-wrong direction polling. The right direction numbers are the highest they have been in modern history."
McEnany noted how recent polls showed approximately 40 percent of Americans viewied the country as headed in the right direction, compared with about 30 percent at the same point during former President Barack Obama's administration.
She added: "It's very clear. The American people see our country heading in the right direction …. Our nominees on the congressional [and] Senate levels need to take note that when you stand by the president you prevail. We saw that with Marsha Blackburn. We saw that with Joe Donnelly in Indiana. We saw it with Kevin Cramer in North Dakota. … When you stand against the president, you tend to lose a lot of Republican votes. After all, our president has the highest own-party approval rating of any president in modern history, other than Bush during 9/11."
McEnany concluded: "So I think who's accountable is the candidates who actually lost the race, whose names are on the ballots, and I think it should be a lesson learned going forward that standing by the president and the conservative agenda is the way to win going into 2020."
Mansour asked McEnany why Republicans had not been more competitive in Democrat-held districts that Trump won in the 2016 presidential election.
"One of the things that I'm most concerned about is that we didn't pick up more of the districts that voted for Trump in 2016 but were currently held by Democrats in Congress," said Mansour. "There are about 12 of those districts, and we picked up two of them, which was wonderful. But of the districts that Hillary Clinton won that were held by Republicans in Congress, there were 25 of those and Democrats picked up 18 of them. They flipped 18 of them from the GOP.  It might be closer to 20, now. So Democrats are flipping [and] grabbing those districts. We didn't really put a dent in any of these blue districts that Trump won overwhelmingly, in many cases. That's really troubling to me. I'm wondering, did the RNC — or GOP in general — do enough to really target those districts and to field candidates that can appeal to voters in those districts and really solidify that working class which is the new Republican Party, now?"
McEnany responded, "At the RNC, we do not engage in candidate selection. We have a pretty simple rule, and it's that we allow the people to decide. We don't believe in Washington swamp meddling in elections, therefore we don't engage in candidate selection. We let the people decide who's best in their districts run. That note aside, yes, we were all in of these key districts. Yes, we made clearly millions of voter contacts, more than 62 million. [We] knocked on doors, made phone calls, but what I would add to that is … President Trump wasn't on the ballot, the Republican nominee in that district was. So we're trying to pick up seats that individuals haven't won since the 1980s in a lot of these cases."
Pollak asked, "Is there a strategy for reaching out to these groups [of Mormons and suburban women] that seem to have less support for the president than they traditionally do [for Republicans], and what is that strategy?"
McEnany answered, "Number one, when we're talking on a macro level, female voters [and] suburban women, it's very important, I think, to talk about paid family leave, things that really reach this cohort. It's something that Ivanka Trump has heralded [and] taken a lead on. There are a multiplicity of issues that we're working on that can reach out to groups that we need to make sure are on our side in the [2020] election. But when we're talking about the president and his support among voters, I think my previous point is the optimal one, which is that he has the highest support among his party of any president in modern history save Bush during 9/11."
McEnany added that Republicans are planning new tax relief proposals to appeal to the "middle class."
"[Donald Trump's] room to increase support among Republicans is small because he's so high up already as to where he stands, but I think making inroads among independents [and] groups that he won over in 2016 is important; suburban women in particular," stated McEnany. "And I think we have the arguments. We have the ability to do that when we talk about tax cuts 2.0. More tax cuts for the middle class. Making the first batch of tax cuts for the middle class permanent. These are all things that can really reach out to these groups as we look forward to 2020."
She also admitted that the party should develop a more compelling argument about health care policy and reducing the costs of health insurance.
Breitbart News Tonight broadcasts live on SiriusXM Patriot channel 125 weeknights from 9:00 p.m. to midnight Eastern or 6:00 p.m. to 9:00 p.m. Pacific.
Follow Robert Kraychik on Twitter.
http://feedproxy.google.com/~r/breitbart/~3/B6y-fq0vqq4/