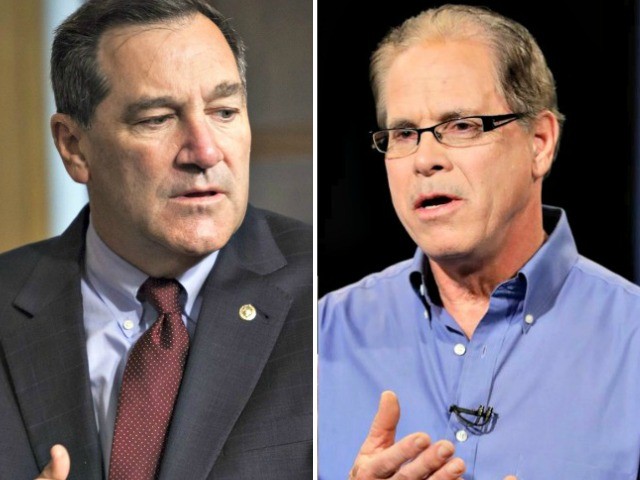 Indiana Right to Life PAC recently announced its endorsement of GOP candidate for U.S. Senate Mike Braun over Democratic incumbent, Sen. Joe Donnelly.
"Indiana Right to Life PAC is pleased there is a solidly pro-life alternative to Joe Donnelly on November's ballot," said Mike Fichter, chairman of the Indiana Right to Life PAC, adding the PAC "proudly endorses Mike Braun for U.S. Senate."
"Hoosiers deserve a senator who is with them 100 percent of the time," Fichter continued. "Mike takes a solid stand on pro-life issues and he will be a dependable voice for life in the U.S. Senate."
Pro-life? Not so fast. #prolife #indianasenate #INsen https://t.co/6N1suJZIrk

— IN Right to Life (@irtl) October 16, 2018
The U.S. Senate race between Donnelly and Braun is highly competitive. Braun asserts he will support legislation that states life begins at conception.
Indiana Right to Life PAC has joined other national pro-life leaders in their criticism of Donnelly – who claims to be "pro-life" – but, even as recently as in August, voted against an amendment to a Senate appropriations package that would have defunded Planned Parenthood.
"Joe Donnelly tells Indiana voters he's pro-life, but the abortion lobby and Democratic leadership know he's a reliable pro-abortion vote in the U.S. Senate," Fichter said. "Donnelly votes to fund abortion providers, like Planned Parenthood, with our taxpayer dollars. Not only is Planned Parenthood Indiana's largest abortion business, but its employees have been caught on tape flippantly discussing the harvesting and sale of baby body parts."
The Susan B. Anthony List (SBA List) noted Donnelly "supports the Big Abortion Industry, not Hoosier values," and added:
Joe Donnelly cast a deciding vote for Obamacare, which uses your tax dollars to pay for health care plans that cover abortion on-demand.
Joe Donnelly voted for taxpayer funding of Planned Parenthood, which performs over 320,000 abortions every year.
Joe Donnelly voted to force states to keep funding Planned Parenthood with our tax dollars even after Congressional investigations revealed that they marketed, sold, and profited from the sale of aborted baby parts.
Indiana Right to Life PAC also observed that Donnelly even opposed "President Trump's pick for the Supreme Court, Brett Kavanaugh."
Father Frank Pavone, national director of Priests for Life told Breitbart News that any senator who would vote against Kavanaugh would be "legitimizing the most shameful smear campaign ever to occur in American politics, and discouraging every future nominee from saying 'Yes' to the call to serve in the federal court system."
"And another reason this is a mistake for Senator Donnelly is that I will personally – and without apology or ambiguity – use all my communication platforms to urge every voter within my reach in the state of Indiana to vote against him in November," Pavone asserted.
Marjorie Dannenfelser, president of SBA List, also said Donnelly's decision to vote against Kavanaugh's confirmation "is a profound betrayal and Indiana voters will remember this at the ballot box in November."
"Instead of standing with Hoosiers – who showed their trust in President Trump to nominate Supreme Court justices when they elected him by a 19-point margin – Donnelly caved to pressure from Chuck Schumer, Dick Durbin and the radical abortion lobby," she added.
http://feedproxy.google.com/~r/breitbart/~3/Ecy2BM8Eivg/