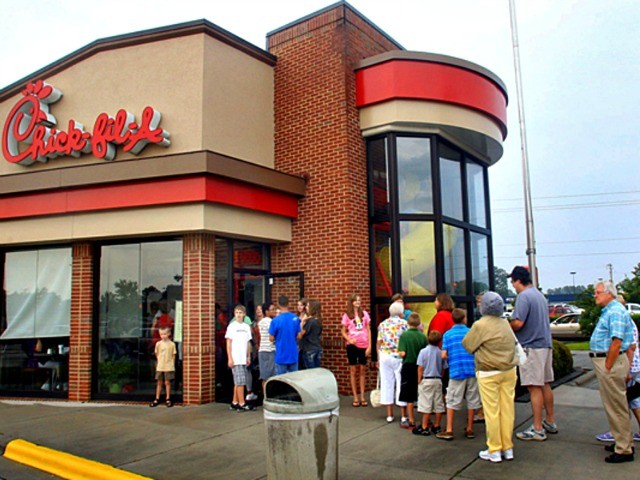 Rider University in New Jersey has rejected students' suggestion to bring Chick-fil-A to campus, claiming that the restaurant's corporate values "have not sufficiently progressed enough to align" with the values of the university.
The suggestion to bring the popular restaurant to campus was in response to a survey that the university sent to students in the spring semester, as first reported by Campus Reform.
The university, seemingly curious as to which restaurant students would like to see on campus, lost any interest in students' opinions upon discovering that the popular consensus among students was Chick-fil-A.
"[Chick-fil-A's] corporate values have not sufficiently progressed enough to align with those of Rider," wrote the university to students, in an email obtained by Campus Reform.
The university added that its decision to deny the students' recommendation was in an attempt to "promote…inclusion for all people."
The restaurant — which is vilified by the Left due to the CEO's espousal of traditional Christian values — donated free food and drinks in 2016 to the blood donation effort for victims of the radical Islamist terror attack at the Pulse nightclub in Orlando, Florida.
The terror attack at the Orlando gay bar, which was carried out by 29-year-old Omar Mateen, left 49 dead and 53 injured.
"We know that [Christian values] might not be popular with everyone, but thank the Lord, we live in a country where we can share our values and operate on biblical principles," said Chick-fil-A CEO Dan Cathy to Baptist Press in a 2012 interview.
Rider University did not immediately respond to Breitbart News' request for clarification on which of Chick-fil-A's values the school does not support.
You can follow Alana Mastrangelo on Twitter at @ARmastrangelo and on Instagram.
http://feedproxy.google.com/~r/breitbart/~3/XucyMPGaLFE/