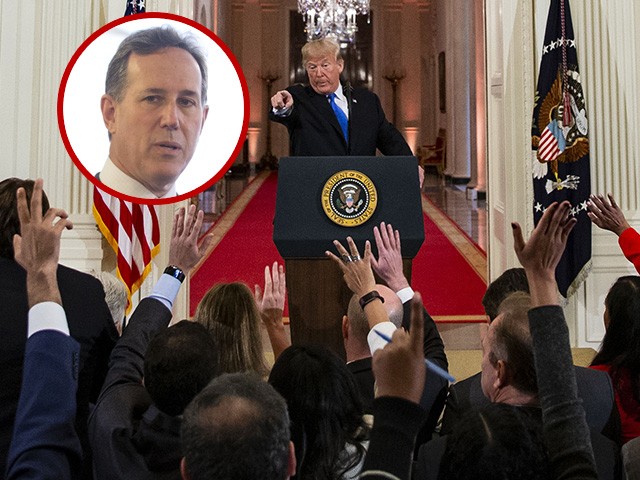 Former Sen. Rick Santorum (R-PA) on Sunday claimed President Donald Trump should be aware that, though he employs the same "combative" style with all "incendiary" questioners, it becomes "a problem" for him when targeted at black women in the press.
"He does attack everybody," Santorum said on CNN's State of the Union. "The president does treat everybody that confronts him poorly, but that being said he needs to be aware of what he's doing."
"He can't see this in a vacuum," the former lawmaker and CNN contributor continued. "He went after people, specifically African American women, and he has to recognize that that's a problem and he shouldn't do that."
On Wednesday, President Trump held a rollercoaster press conference in which he shared tense exchanges with CNN Chief White House correspondent Jim Acosta, National Urban Radio Network reporter April Ryan, and PBS's Yamiche Alcindor.
The president hit back at Alcindor when she asked if he supports white nationalism, calling the question "racist." Later the president told Ryan to "sit down" as she attempted to pepper him with questions. On Friday, President Trump referred to a question regarding special counsel Robert Mueller's Russia probe via CNN's Abby Phillip as "stupid."
Despite voicing concern over the president's treatment of African-American reporters, Santorum conceded he found some of the questions Ryan, Alcindor, and Phillips posed were "incendiary."
"I think he's just combative," the former Pennsylvania senator added, summing up the president's style.
http://feedproxy.google.com/~r/breitbart/~3/T4khssbuqLU/