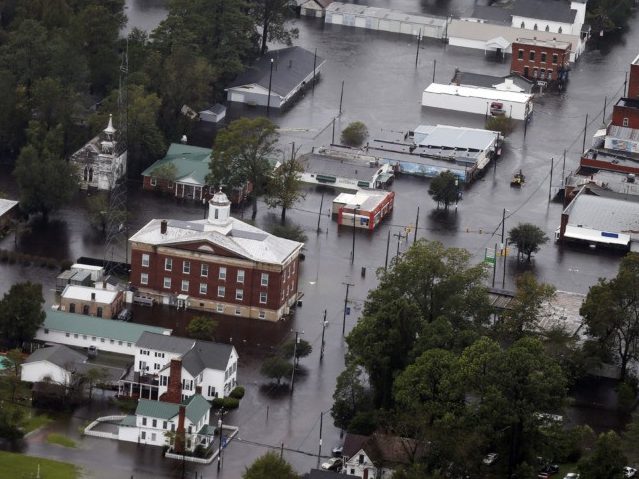 A retired U.S. Marine is whisking away North Carolina residents stranded by Tropical Depression Florence in a military transport vehicle.
"We're underneath the tarp in the back of a military style high-water vehicle that's being driven by a retired Marine who's jumped into action here in New Bern," reports @edlavaCNN from North Carolina.

Follow for live Hurricane Florence updates: https://t.co/mx42zP2T9W pic.twitter.com/ox05Cq1Pfm

— CNN Newsroom (@CNNnewsroom) September 14, 2018
Jason Weinmann, 47, who bought the massive tan-colored truck at a government auction ten years ago, sprung into action in New Bern, North Carolina, on Friday by using the truck to pull people out of areas submerged in water from the storm.
"That's why I got this thing, to use in times like this," Weinmann told CNN.
The retired Marine rescued ten people from heavily flooded areas and brought them to a nearby shelter.
Jennifer Morales, 20, who was one of those rescued, said she and her family's home had three feet of water inside and had been trapped for 12 hours before rescuers came.
"It was pretty bad. We didn't know where to go," she said.
At least 15 people have died as a result of Florence, which has ravaged the Carolinas with catastrophic flash flooding. Although many people have been rescued, some areas of North Carolina have been cut off because of flooding.
Officials in Wilmington, North Carolina, are requesting additional help from law enforcement and the National Guard because of roads cut off by the floodwaters, according to the Associated Press.
http://feedproxy.google.com/~r/breitbart/~3/uJN_e8EbdtI/