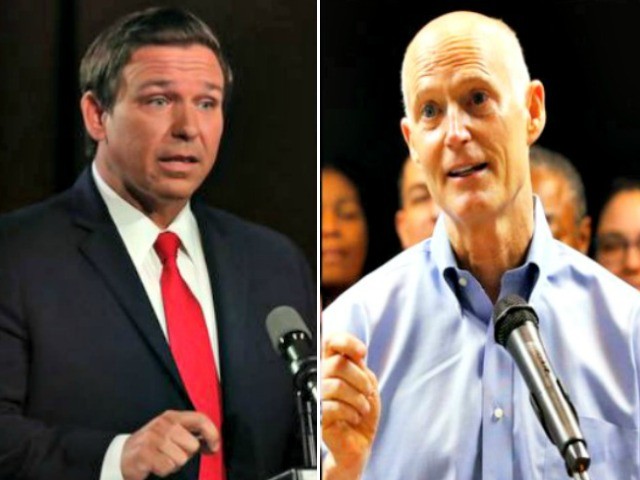 The first poll released after Hurricane Michael shows Republicans enjoying early vote leads in Florida's closely watched U.S. Senate and gubernatorial races.
Prior to Michael, incumbent Democrat Sen. Bill Nelson enjoyed a small but persistent lead in almost every poll against his Republican challenger, sitting Florida Gov. Rick Scott.
Post-Michael, in a survey conducted by St. Pete Polls, Scott now leads 49 to 47 percent.
Among those who have already voted, Scott sits at the magic number of 50 percent.
Helping Scott is his approval rating for how he handled last week's hurricane. A full 61 percent approve of the job he did, while only 21 percent disapprove.
Ron DeSantis, the Republican hoping to replace Scott, was also losing in every poll taken pre-Michael to Democrat Andrew Gillum — sometimes by margins as high as five to nine points.
The St. Pete Poll, though, shows the race statistically tied, with Gillum up only one point, 47 to 46 percent. But…
Among those who have already voted, DeSantis leads Gillum by four points, 49 to 45 percent.
For his handling of Michael, Gillum, the current mayor of Tallahassee, sits at 44 percent approval, 30 percent disapproval.
Scott and DeSantis sitting in the lead in early voting is a positive sign. In swing states, Democrats tend to out-hustle the GOP on this front.
Also in the GOP's favor is the news that this poll comes with an asterisk due to where Michael hit hardest — the Panhandle, which tends to lean Republican. Florida Politics reports that those areas were under-sampled in this poll.
Finally, the polls show Scott and DeSantis surging in important demographics. In past polls, Democrats Gillum and Nelson enjoyed healthy leads among Independents. Now those leads have dwindled to just two and five percent, respectively.
The same is true of women.
This is just one poll, but it does fit with the real movement we have seen in other Senate races in favor of the GOP.
These other Senate races were also hit with a hurricane-of-sorts in the form of the bitter and ugly Supreme Court confirmation fight over Brett Kavanaugh. Democrats not only lost that confirmation battle, their obscene political tactics united the Republican party in ways that seemed impossible only two weeks ago.
Follow John Nolte on Twitter @NolteNC. Follow his Facebook Page here.
http://feedproxy.google.com/~r/breitbart/~3/pkZHZTecBeA/