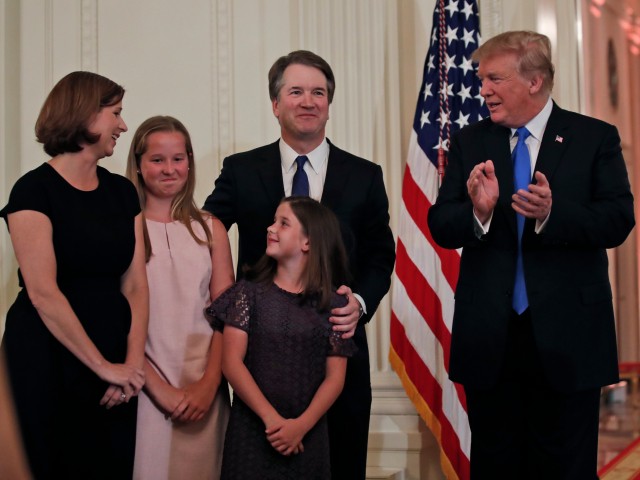 A new poll indicates that Republicans have closed the Democrats' formerly wide gap in voter enthusiasm, thanks to the ongoing crisis surrounding the confirmation of Judge Brett Kavanaugh to the U.S. Supreme Court.
A new NPR/PBS NewsHour/Marist poll released Wednesday found that 80% of Republicans now say the November elections are "very important," compared with 82% of Democrats — a statistical tie, well within the poll's 4-point margin of error.
The poll was conducted on October 1st (Monday), as the FBI was conducting its supplemental probe of allegations of sexual misconduct against Kavanaugh. The 12-year veteran of the D.C. Circuit was recently accused of groping a girl when he was in high school — a claim he denies. Republican Senators have called Democrats' attempt to derail Kavanaugh's confirmation a "circus" — a point on which both the GOP establishment and the conservative base seem to have found elusive agreement
In July, only 68% of Republicans said the midterm elections were "very important," compared to 78% of Democrats.
In addition, NPR notes: "Democrats' advantage on which party Americans want to control Congress has also been cut in half since last month. Democrats still retain a 6-point edge on that question, but it was 12 points after a Marist poll conducted in mid-September."
It adds: "[W]ith Democrats already up fired up for this election, the Kavanaugh confirmation fight has apparently had the effect of rousing a dormant GOP base.
The poll results confirm anecdotal evidence from many districts. House Majority Leader Kevin McCarthy (R-CA) said Sunday that the Kavanaugh controversy had helped the party dramatically. Fundraising for Republicans has also reportedly skyrocketed.
While Democrats also believe the controversy will be helpful to their party in November, chiefly by motivating female voters who opposed Trump, those voters may have already been very interested in participating in the elections.
Joel B. Pollak is Senior Editor-at-Large at Breitbart News. He is a winner of the 2018 Robert Novak Journalism Alumni Fellowship. He is also the co-author of How Trump Won: The Inside Story of a Revolution, which is available from Regnery. Follow him on Twitter at @joelpollak.
http://feedproxy.google.com/~r/breitbart/~3/bldqmiaSdK4/