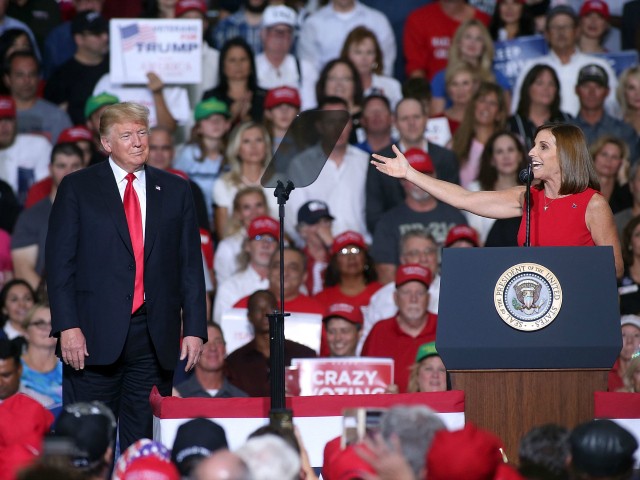 Republican voters are outpacing Democrat voters in key states such as Arizona, Florida, Indiana, Montana, Tennessee, and Texas, according to NBC News.
All six of those states will be key to which political party controls the Senate. As of now, Republicans hold the slimmest majority of just 51 seats.
According to the Real Clear Politics poll of polls, Republicans currently enjoy comfortable leads in three of those states: Tennessee (+6.5), North Dakota (+10.6), and Texas (+7.0). But only North Dakota would be a Republican pickup from an incumbent Democrat.
In the remaining three states — Indiana, Florida, and Montana — the incumbent Democrats all enjoy two to three point leads.
But as we saw during the 2016 presidential election, the polls might be missing something — like an unexpected surge of Republican enthusiasm, which would be picked up in early voting statistics such as these. Remember, polls are weighted based on the pollsters guess of what the electorate will look like.
"The latest data suggests robust enthusiasm among early Republican voters that could put a dent in Democratic hopes for a 'blue wave' in next month's midterm elections," the far-left NBC wrote after analyzing this data from TargetSmart.
Only in Nevada, where Republican Sen. Dean Heller is struggling to hold his seat, are Democrat early voters outpacing Republicans. As of now, Heller is up just 1.7 percent in the Real Clear Politics poll of polls.
Republicans are also outpacing Democrats in Georgia, where there is a tough gubernatorial battle taking place.
Here are the early voter numbers thus far:
Florida: 44 percent R, 38 percent D, 18 percent unaffiliated.
Indiana: 51 percent R, 39 percent D, 10 percent unaffiliated.
Montana: 46 percent R, 29 percent D, 25 percent unaffiliated.
Tennessee: 63 percent R, 30 percent D, 7 percent unaffiliated.
Georgia: 52 percent R, 43 percent D, 5 percent unaffiliated.
Nevada: 45 percent D, 38 percent R, 18 percent unaffiliated.
With all the media talk of a "Blue Wave" and a narrative that it is so certain it is Democrats chomping at the bit to vote and Democrats with a big edge in enthusiasm, the actual votes so far tallied do not read that way.
One person not surprised by any of this is Larry Schweikart, co-author of How Trump Won with Breitbart's Joel Pollak.
Schweikart is not only one of the few people who correctly called the 2016 election for Donald Trump, he has been closely watching the voter registration numbers for the 2018 midterms and predicting Republicans would surprise the "experts" again by turning out in droves, especially in early voting.
Breitbart News reached out to Schweikart to ask him about these numbers.
"I was always expecting this engagement," he told me. "There never was a blue wave, and there never were '40-60 [House] seats' at risk — and Democrats were ALWAYS going to lose 4-7 senate seats."
"This is not due to only Justice Kavanaugh or any other issue, but a common sense reading of who Republican voters are and how they generally do NOT get jazzed up for special elections," he added, referring to the lackluster turnout from the GOP in a number of these special elections.
"Rather, Republicans try to ignore politics because they have families, churches, and lives. Then, in October, they begin to engage."
What is important about these early voting numbers is that they are actual votes — not polls — actual votes. And while we can never guess with absolute certainly who these early votes are for, we can glean from these numbers who exactly has shown enough enthusiasm to cast their votes this early — and so far, other than Nevada, it is the GOP.
Another caveat is that Republicans generally outpace Democrats with absentee ballots — which is a form of early voting. However, Democrats usually outpace Republicans when it comes to early voting at a polling place. This means that in a state like Florida, where early poll voting has only just begun, the GOP edge is not unusual.
However, the fact that the numbers are where they should be does at least indicate that there is no Blue Wave swamping the Florida GOP, at least not yet.
Follow John Nolte on Twitter @NolteNC. Follow his Facebook Page here.
http://feedproxy.google.com/~r/breitbart/~3/4f2aEgUHtzE/