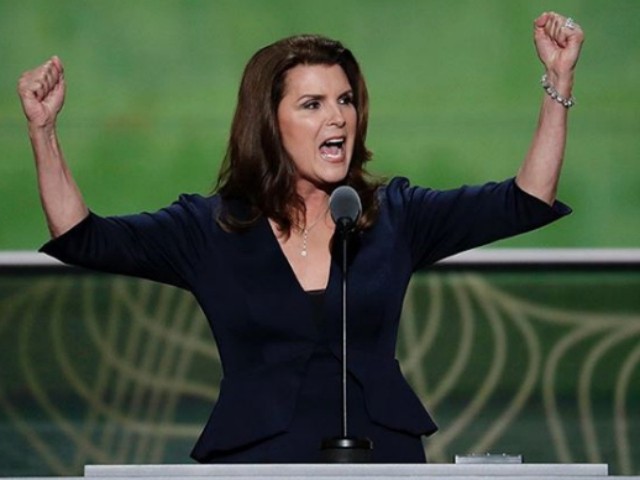 Republican congressional candidate Kimberlin Brown Pelzer "came out swinging" in a debate Tuesday against incumbent Rep. Raul Ruiz (D-CA) in the 36th congressional district, which includes the Palm Springs area.
The local Desert Sun noted that Pelzer made a strong case that Ruiz was merely a puppet for House Minority Leader Nancy Pelosi (D-CA). Pelosi intends to return as Speaker of the House if Democrats win in November.
The Desert Sun added:
Brown Pelzer repeatedly likened Ruiz to Pelosi, pivoting on questions about both health care and tax policy back to Pelosi, with whom she said Ruiz votes in lockstep.

"When he goes to Washington, he simply does what Nancy Pelosi says to do," she said.

…

Brown Pelzer said she supported Trump's border wall plans, which she said would prevent people and goods from illegally crossing into the country.

"People who want to come here for asylum; there are proper ports of entry for them to come to and claim asylum. When you come (into) the country illegally, you're doing exactly that, and breaking the law."
In an interview with Breitbart News in April, Pelzer stressed that Ruiz did not represent the district:
Ruiz has adopted far-left positions on a variety of issues, especially foreign policy. He is a strong supporter of the Iran nuclear deal, and has been endorsed by J Street, a radical far-left organization that many consider anti-Israel.

In addition, Ruiz has received a 100% rating from Planned Parenthood. When two of his campaign donors were revealed to be the targets of a criminal investigation in 2017, Ruiz did not return their money: he gave it to Planned Parenthood instead.

…

"They don't feel represented," she argues. "Ruiz only says and does what Pelosi tells him to do." She notes that Ruiz — like every other Democrat in Congress — voted against President Donald Trump's new tax cuts. Those tax cuts, she says, have already translated into new jobs in the 36th district. Yet, she says, Pelosi and Ruiz want to raise taxes again.
The Hollywood actress and businesswoman has run an energetic, carefully planned campaign since the primary.
Democrats are targeting seven districts in California where Hillary Clinton won more votes than Donald Trump in 2016. But the 36th district could represent an opportunity for Republicans to flip a Democrat-held district.
Joel B. Pollak is Senior Editor-at-Large at Breitbart News. He is a winner of the 2018 Robert Novak Journalism Alumni Fellowship. He is also the co-author of How Trump Won: The Inside Story of a Revolution, which is available from Regnery. Follow him on Twitter at @joelpollak.
http://feedproxy.google.com/~r/breitbart/~3/bm5briPGV2g/