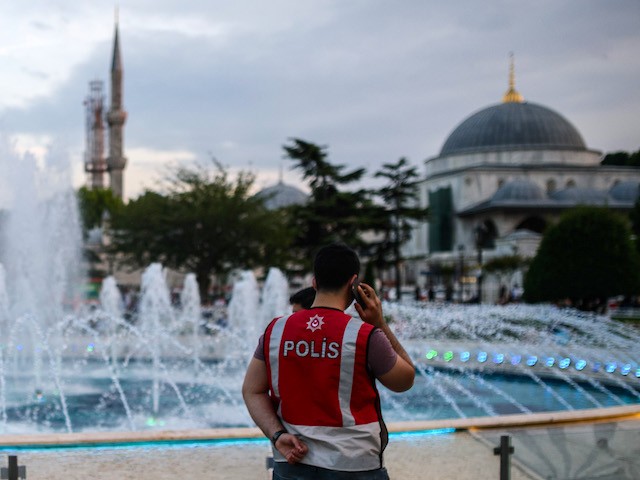 Turkish media outlets reported on Friday that Istanbul police are receiving a not-insignificant number of calls from "clairvoyants" around the world claiming they have information about the murder of Jamal Khashoggi presumably provided by Khashoggi's ghost.
The calls, according to the Turkish newspaper Hurriyet and CNN Türk, mostly claim to know the whereabouts of Khashoggi's remains.
The government of Saudi Arabia confirmed last Friday that Khashoggi died on October 2 in the Saudi consulate in Istanbul after entering it seeking documentation to marry his fiance. Riyadh admitted Khashoggi was dead after the Washington Post journalist went missing for two weeks, a time during which the Saudi claimed Khashoggi had left the building and disappeared afterward.
While initially claiming the death was an accident after Khashoggi, 59, started a fight with 18 men at the consulate, Saudi Arabia's chief prosecutor stated this week that evidence suggested his killing was premeditated.
Turkish police have yet to find Khashoggi's remains, triggering widespread speculation as to what happened to his body.
Some foreign and local callers to the Istanbul police claim to have an answer, Hurriyet reported Friday.
"Istanbul police have received calls from locals who said they had dreams about knowing the location of the body of slain Saudi journalist Jamal Khashoggi, with foreign 'clairvoyants' also claiming to find his remains," the newspaper noted, adding that the anonymous officials who confirmed these calls noted they came "at a critical phase" of the investigation. The Hurriyet report did not clarify whether the officials who revealed the calls considered them helpful or a burden.
CNN Türk ran a similar report on Thursday, noting that the "seers" in question mostly claimed to have found Khashoggi's body in their dreams.
The psychic claims join a library of anonymously sourced hearsay explanations for what happened to the journalist – who had been critical of the Saudi royals, and particularly Crown Prince Mohammed bin Salman, before his death – featured in various pro-government Turkish media outlets. Yeni Safak, a newspaper supportive of Turkish President Recep Tayyip Erdogan, claimed that Saudi officials dismembered Khashoggi alive. Hurriyet reported that the Saudis had dissolved Khashoggi's body in acid, a claim Erdogan himself appeared to consider when accusing the Saudis of "painting over" evidence of "toxic" chemicals at the consulate.
Erdogan repeated demands for greater transparency from Saudi Arabia on Friday.
"Where is Khashoggi's body? Who gave the order of Khashoggi's killing? The 18 people arrested know. Who sent the 15 people [the alleged hit squad involved in the murder] to Turkey? Saudi authorities must explain this," the president said during an event in Ankara. He noted that he had spoken to the crown prince personally and told him, "You know how to make people talk. Whatever happened between these 18 people, this dodgy business is among them. If you are determined to lift suspicion, then the key point of our cooperation is these 18 people."
Turkey has arrested 18 suspects known to have been in and around the consulate during Khashoggi's disappearance.
The latest uncorroborated reports in Turkish media suggested that Khashoggi's dismembered body parts were likely hidden in a well located at the home of the Saudi consul in Istanbul. Yeni Safak reported this week that police sought to inspect the well in question after photos alleging to be of Khashoggi's body began surfacing on social media.
"Police say Khashoggi was killed and dismembered within two hours, and taken from the Saudi consulate in suitcases and plastic bags. His DNA was found in a Vito minibus that traveled from the consulate to the consul-general's residence, a distance of 300 meters," the newspaper claimed.
Shortly after the publication of this report, however, Reuters confirmed with Turkish police that a search of the well revealed no DNA tied to Khashoggi.
Khashoggi's fiance Hatice Cengiz broke her silence on Turkish television late Thursday, demanding answers from the Saudi government.
"I demand that all those involved in this savagery from the highest to the lowest levels are punished and brought to justice," she reportedly said, adding that Khashoggi believed Turkey to be "a safe country" and that he felt his "political network" in the country would keep him from coming to harm while there.
The United States has offered to provide any necessary aid to Turkish officials in finding Khashoggi. CIA Director Gina Haspel visited the country this week and is expected to brief President Donald Trump about her findings upon her return. A report in Turkish government outlet Anadolu Agency noted that Secretary of State Mike Pompeo spoke to his Turkish counterpart Mevlut Cavusoglu on Friday, though it did not provide details on what the two discussed.
Follow Frances Martel on Facebook and Twitter.
http://feedproxy.google.com/~r/breitbart/~3/Cbd7J6DiWaQ/