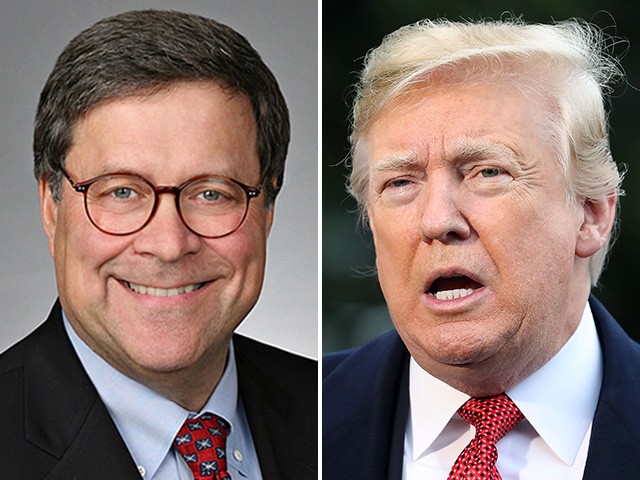 Former Attorney General William Barr has emerged as the leading contender to be nominated as the next attorney general, according to The Washington Post.
Barr, who served as Attorney General between 1991-1993, is reportedly a favorite among a handful of aides to President Donald Trump and top lawyers in the Office of White House Counsel.
"[Barr is] a serious guy," an unnamed source told the Post. "The president is very, very focused on [a candidate] looking the part, and having credentials consistent with the part."
If both nominated and confirmed by the Senate, Barr would replace acting Attorney General Matthew Whitaker, who was selected by the president to lead the Justice Department following the November 7th resignation of then-Attorney General Jeff Sessions.
George Terwilliger, who served as Deputy Attorney General under Barr said his former boss would bring "40 years of high level experience, both in government and in business, which gives him a perspective that fits many of this administration's priorities."
"I have no way of knowing if the report that he's a leading candidate is accurate, but if he was, because of both his government and corporate background, he would enjoy widespread support — both in and outside the legal community," Terwilliger added.
In July, Barr criticized special counsel Robert Mueller for bringing on prosecutors who have made financial contributions to Democrat lawmakers, including twice-failed presidential candidate Hillary Clinton. "In my view, prosecutors who make political contributions are identifying fairly strongly with a political party," he told the Post at the time. "I would have liked to see him have more balance on this group."
Barr, currently an attorney at the law firm Kirkland & Ellis, is said not to possess a "particular ambition" about returning to his former agency, yet does feel a "sense of duty" to accept the nomination if offered.
The White House is also reportedly looking closely at Rep. John Ratcliffe (R-TX), a member of the House Judiciary Committee and a favorite among his conservatives colleagues.
While Barr is the top prospect to lead the Department of Justice, the White House has yet to make a final decision.
http://feedproxy.google.com/~r/breitbart/~3/rTqkrVWnFu0/