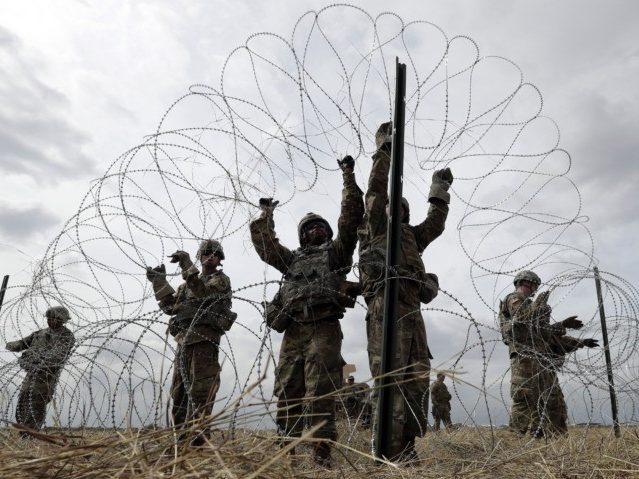 U.S. troops will start heading home from their mission supporting Customs and Border Protection (CBP) agents on the Southwest border this week, just as migrants are beginning to arrive, according to a report by Politico.
Northern Command Commander Army. Lt. Gen. Jeffrey Buchanan told the outlet in an interview Monday that the first troops will start heading home in the coming days, since some units have completed the missions they were sent for. Some of those units include engineering and logistics units who were tasked with putting up concertina wire and other barriers along the border.
Pentagon spokesman Army Col. Rob Manning told reporters on Monday that units in Texas were done hardening ports of entry. He said 11,426 meters of wire obstacles are emplaced.
Currently, there are approximately 5,800 troops deployed to the border. About 2,800 are in Texas, 1,500 in Arizona, and 1,500 in California.
Buchanan told Politico that the end date of the troops mission assisting CBP is December 15, and all troops should be home by Christmas.
"Our end date right now is 15 December, and I've got no indications from anybody that we'll go beyond that," he said.
Buchanan said the closure of one entry point along the California border near Tijuana, Mexico, was only partial.
The closure came amid reports that the migrant caravan planned to overrun the entry point.
"If CBP have reliable information that one of their ports is about to get rushed with a mob, or something like that that could put their agents at risk, they could ask us to completely close the port," he said.
"You understand the importance of commerce at these ports. Nobody in CBP wants to close a port unless they're actually driven to do so."
Buchanan said troops are done with placing about percent of the obstacles at the border that they planned to. Those obstacles include concertina wire, shipping containers, and concrete barriers at ports of entry.
While engineers and logistics troops will head home first, those remaining will be helicopter pilots, planners, medical personnel, and other "quick response" teams of engineers who can help border patrol personnel shut down traffic and ports of entry.
http://feedproxy.google.com/~r/breitbart/~3/bGPinHJUEm8/