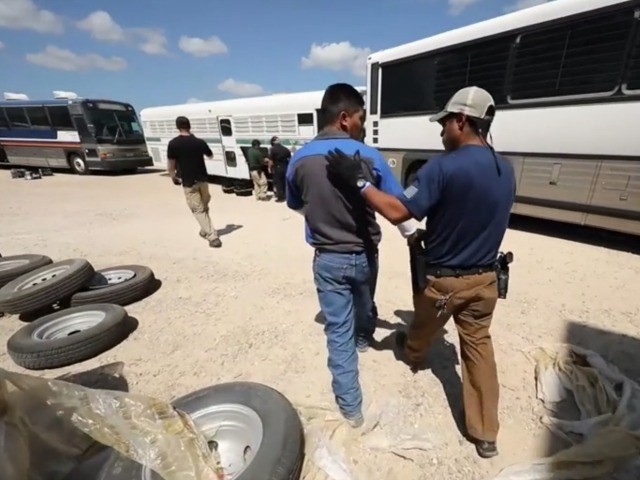 President Donald Trump's enforcement officials have sharply boosted the repatriation of non-criminal illegal migrants in the nine months up to July 2018, says the Associated Press news service.
AP reported the expanded efforts by Trump's U.S. Immigration and Customs Enforcement:
ICE arrests of noncriminals increased 66 percent in the first nine months of the 2018 fiscal year over the same period a year earlier. Arrests of convicts, meantime, rose nearly 2 percent. More noncriminals have also been deported …

The result is immigration courts are filling with defendants like Ruben Moroyoqui, a 45-year-old mechanic in Tucson, Arizona, whose only run-in with police came last year, his attorney said, when he was pulled over while picking up auto parts.

First, the officer asked for his license. His second question, Moroyoqui said, was "Are you here legally?" He wasn't cited for any driving violation; he was simply handed over to ICE, which began proceedings to deport him to Mexico. An appeal is pending.
The arrests are rising partly because ICE is inspecting more employers who hire many illegal immigrants.
Under President Barack Obama, enforcement officials narrowed their focus to illegal immigrants who were found guilty of violent crimes. That strategy required enforcement officials to ignore illegal immigrants they met in routine operations, and also prompted judges to set aside at least 100,000 deportation cases against illegals.
However, even Trump's deportation rates are still low given the nation's huge population of illegal immigrants, which is estimated to include from 11 million to 22 million illegals.
But Trump's extra enforcement is opposed by pro-migration Democrats and by business-first Republicans.  The political pressure has resulted in Congress opposing Trump's efforts to build the wall and expand enforcement measures.
For example, Trump's 2019 budget asked for extra funds to hire 3,312 extra ICE officers and support staff, and to operate 52,000 detention beds.
But the GOP-led House appropriations committee only approved money for 400 additional law enforcement officers and support staff, and to operate only 44,000 detention beds.
Senators provided even less for Trump's DHS appropriations budget. The Senate committee's statement said:
the bill funds an average daily population of 40,520 adult and family detention beds, the same as the fiscal year 2018 enacted amount. The bill rejects the President's request to hire 3,300 new ICE employees to support his executive order on immigration.
Trump asked for $5 billion to extend the border wall, but the Senate only approved $1.6 billion.
The House DHS bill — prepared by Kansas Rep. Kevin Yoder — also includes provisions to greatly expand the inflow of temporary workers. The extra foreign workers are intended to pressure down wages and salaries for blue-collar and white-collar Americans.
Amid opposition from Congress, Attorney General Jeff Sessions is using his legal authority as attorney general to reform the border rules and immigration courts, and to send more migrants home.
Overall, the Washington-imposed economic policy of economic growth via immigration shifts wealth from young people towards older people by flooding the market with cheap white-collar and blue-collar foreign labor.
That flood of outside labor spikes profits and Wall Street values by cutting salaries for manual and skilled labor offered by blue-collar and white-collar employees.
The policy also drives up real estate prices, widens wealth-gaps, reduces high-tech investment, increases state and local tax burdens, hurts kids' schools and college education, pushes Americans away from high-tech careers, and sidelines at least 5 million marginalized Americans and their families, including many who are now struggling with opioid addictions. Immigration also pulls investment and wealth away from heartland states because investment flows towards the large immigrant populations living in the coastal states.
http://feedproxy.google.com/~r/breitbart/~3/8CCF6zJhjHI/