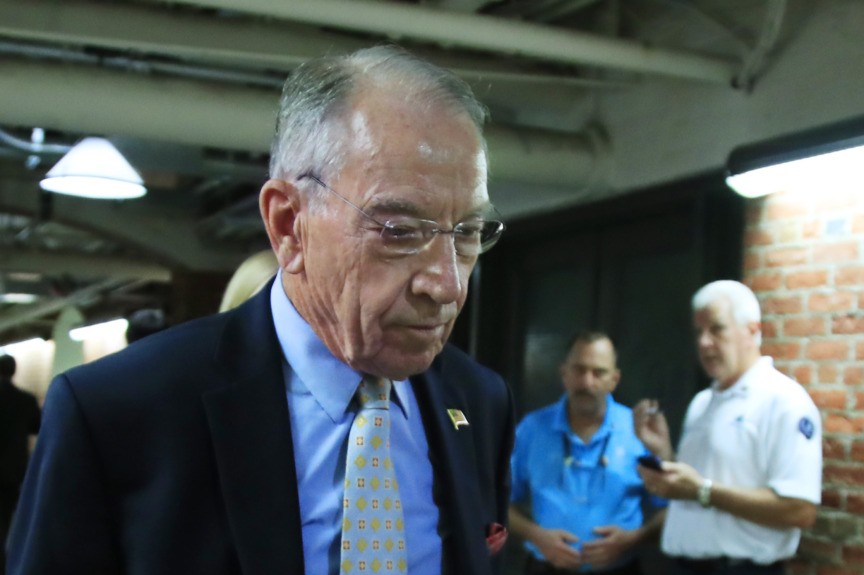 President Donald Trump is none too pleased with how Senate Judiciary Chairman Charles Grassley (R-IA) is handling demands made by attorneys for Christine Balsey Ford, the California psychology professor who is scheduled to testify Thursday about her decades-old sexual misconduct allegation against Supreme Court nominee Brett Kavanaugh, a new report says.
According to the Washington Post, President Trump believes Grassley has been "too accommodating" towards Ford, and he has grown tired of the professor's legal team "getting their way" when it comes to setting the terms of their client's testimony.
As Breitbart News reported, the chairman late Saturday evening granted yet another extension to Ford's legal team to reply to a request that the accuser testify before lawmakers Wednesday. The following day, Ford's legal team convinced members of Grassley's staff to allow their client to appear before the panel on Thursday. The tentative agreement came after lawyers for Ford accused the Republicans of being "fundamentally inconsistent with the committee's promise of a fair, impartial investigation into her allegations." Earlier this month, Ford publically detailed her allegation to the Washington Post, accusing Kavanaugh, then in high school, of forcing her into a room and groping her at a house party around 1982.
The Post also reports that in the wake of allegations against Kavanaugh, President Trump believes, "Republicans are too easily manipulated by Democrats," a view widely shared by his supporters, who see the likes of Sens. Mazie Hirono (D-HI) and Kirsten Gillibrand (D-NY) as bad faith actors attempting to derail the Supreme Court nominee's confirmation for purely political purposes. Further, a Republican with knowledge of the president's discussions on the matter says the White House "does not believe [Ford's] accusations are credible."
"In private talks, Trump has targeted Senate Majority Leader Mitch McConnell (R-KY) and Grassley for criticism, complaining that they have not been forceful enough in speeding up the process and have been too deferential to Ford's attorneys, according to two people familiar with Trump's concerns," the Post reports.
McConnell  vigorously defended Kavanaugh in a Senate floor speech Monday, accusing the Democrats of launching a "smear campaign" against the nominee, vowing the Trump will soon be confirmed to the Supreme Court.
"Senate Democrats and their allies are trying to destroy a man's personal and professional life on the basis of decades-old allegations that are unsubstantiated and uncorroborated," McConnell said. "That, Mr. President, is where we are. This is what the so-called resistance has become, a smear campaign, pure and simple, aided and abetted by members of the United States Senate."
One day after Ford tentatively agreed to testify, the New Yorker's Ronan Farrow and Jane Mayer reported that while a college freshman at Yale University, an inebriated Kavanaugh "exposed himself" to fellow student Deborah Ramirez during a "drunken dormitory party." Akin to Ford's allegation, Farrow and Mayer had no luck in corroborating Ramirez's claims. "The New Yorker has not confirmed with other eyewitnesses that Kavanaugh was present at the party. The magazine contacted several dozen classmates of Ramirez and Kavanaugh regarding the incident. Many did not respond to interview requests; others declined to comment, or said they did not attend or remember the party," the magazine's reporters wrote.
Michael Avenatti, attorney for porn star Stormy Daniels and 2020 hopeful, claims to represent a third accuser who possesses "credible information" regarding Kavanaugh and has asked the committee to look into said evidence. In an email to Mike Davis, Chief Counsel for Nominations for the Senate Judiciary Committee, the "creepy porn lawyer" wrote: "We are aware of significant evidence of multiple house parties in the Washington, D.C. area during the early 1980s during which Brett Kavanaugh, Mark Judge, and others would participate in the targeting of women with alcohol/drugs in order to allow a 'train' of men to subsequently gang rape them."
Despite the allegations and violent threats against his family, Judge Kavanaugh's resolve appears stronger than ever.
In a sit-down interview with Fox News host Martha MacCallum on Monday, Kavanaugh, with his wife Ashley by his side, vehemently denied the decades-old allegations and asked for a "fair process where I can defend my integrity."
"I've never sexually assaulted anyone, in high school or otherwise," he told MacCallum. "I am not questioning, and have not questioned, that perhaps Dr. Ford, at some point in her life, was sexually assaulted by someone, in some place. But what I know is I've never sexually assaulted anyone."
http://feedproxy.google.com/~r/breitbart/~3/7DEhqjJXJok/