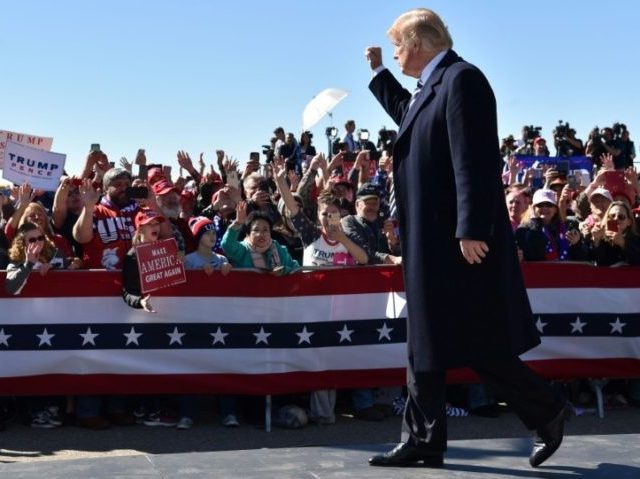 President Trump's 2020 presidential election campaign will "reduce its reliance" on Big Tech platforms in favor of reaching supporters directly, according to a report.
In a report based on "four officials involved in Trump's reelection campaign," Politico claimed President Trump and his staff are "building a 2020 campaign infrastructure that can circumvent" the Silicon Valley Masters of the Universe.
"The emerging tech strategy, according to four officials involved in Trump's reelection campaign, will reduce its reliance on Big Tech platforms — which were the dominant messaging channels in 2016 — to get the president's message out," reported Politico. "The president's team instead is planning to go around the platforms as much as possible and reach supporters directly, making use of old-school text messaging."
Someone reportedly "familiar" with President Trump's 2020 campaign told Politico that, "In 2016, the campaign didn't have the bandwidth to scale across many, many channels."
"This led to extra focus on Facebook. It worked, but I'd suspect in 2020, the campaign will expand and scale across several unique channels," the source added.
President Trump has repeatedly warned Big Tech of potential action should they continue to hold political biases and impose political censorship.
In August, the president claimed Big Tech companies were in a "very anti-trust situation," and declared, "Social Media Giants are silencing millions of people."
"I've made it clear that we as a country cannot tolerate political censorship, blacklisting, and rigged search results," President Trump added in the same month. "We will not let large corporations silence conservative voices… We're not going to let them control what we can and cannot see, read, and learn from, we can't do that… America is a free country and we're going to stay always a free country."
"I think what Google and what others are doing – if you look at what is going on with Twitter and if you look at what's going on in Facebook, they better be careful because you can't do that to people," President Trump continued. "You can't do it… I think that Google and Twitter and Facebook, they are really treading on very, very troubled territory and they have to be careful… It is not fair to large portions of the population."
President Trump's 2020 campaign manager Brad Parscale has also condemned Big Tech companies for "stifling" free speech, declaring, "They must be stopped from turning the Internet into Big Brother."
"Hey @facebook @Twitter @Google we are watching," posted Parscale on Twitter in March. "This is your opportunity to make sure the playing field is level."
In an exclusive article for Breitbart News, Tuesday, Parscale also claimed Big Tech "monsters" have become an "existential threat to our individual liberties as well as our system of government," which seek to "eradicate conservative ideas" from the Internet.
"The biggest of the Big Tech companies are quickly positioning themselves as the internet's thought police, threatening to stamp out one of America's most cherished freedoms — the right to free speech," Parscale expressed. "Unfortunately, Big Tech monsters like Google and Facebook have become nothing less than incubators for far-left liberal ideologies and are doing everything they can to eradicate conservative ideas and their proponents from the internet."
http://feedproxy.google.com/~r/breitbart/~3/GLOneI9wmMQ/