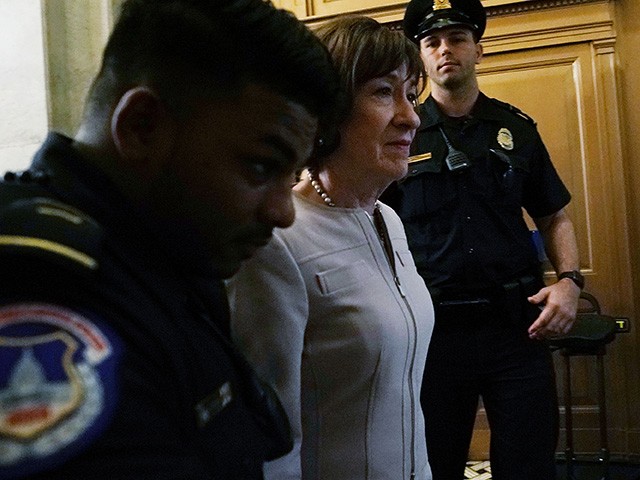 Maine law enforcement is investigating a suspicious letter sent to the Bangor home of Sen. Susan Collins (R-ME), according to reports breaking Monday afternoon.
The Bangor Police Deptempartment, along with its Fire Department and local hazmat crew, are on site at Collins' home investigating the package. The state's Criminal Investigation Division is also assisting with the ongoing probe.
Police investigating possible threat against Senator Susan Collins via @FoxABCMaine >https://t.co/uxmJfuSMmv pic.twitter.com/3m1TMmnN9M

— CBS 13 News (@WGME) October 15, 2018
Local affiliate CBS 13 reports police shut down Hayward Street near Collins' home on West Broadway.
Bangor PD Bangor fire have closed down Hayward street investigating a possible threat to Senator Susan Collins pic.twitter.com/mmVdY2C4BY

— David Simpson (@vidmandave) October 15, 2018
Bangor Police Crime Lab and firefighters are parked on West Broadway near where Sen. Susan Collins lives. Awaiting word about what is happening. PHOTO by David Simpson. pic.twitter.com/FXyaBINYeo

— Nit-Noi Ricker (@MaineNitNoi) October 15, 2018
A spokesperson for Collins says the Maine senator is on her way home to meet her husband.
Per @SenatorCollins spox: Sen. Collins is on her way home… her husband is now at the house https://t.co/2r3gKUJQQV

— Brooke Singman (@brookefoxnews) October 15, 2018
Reports of the alleged threat come after Collins cast a key vote to help confirm Supreme Court Justice Brett Kavanaugh.
Last weekend, Collins returned to Maine after Kavanaugh was sworn into office and addressed the media regarding her decision to support the judge. Collins told reporters the supplemental FBI reports that she pushed for, along with Sens. Jeff Flake (R-AZ) and Lisa Murkowski (R-AK), were a "turning point" that helped her reach the decision to support Kavanaugh despite sexual misconduct accusations leveled at him.
Further, Collins said she read "every word" and found no evidence corroborating Christine Blasey Ford's allegation that Kavanaugh tried to rape her when they were in high school.
The Maine Republican told CNN's State of the Union that Kavanaugh's forceful denial and lack of corroborating evidence brought her back to fundamental issues of due process, a presumption of innocence and fairness.
People angry over her vote have vowed to make her pay a political price. A crowdsourcing group says it has secured pledges of more than $3 million for the incumbent's opponent in 2020. Collins has criticized rivals for using threats to fundraise on behalf of a future opponent to try to sway her vote, saying the nation is in a bad place "when people think they can buy the vote of a United States senator."
Susan Rice, who was national security adviser under President Barack Obama, is being mentioned as a possible challenger after tweeting "me" when asked who'd challenge Collins.
The Associated Press contributed to this report.
http://feedproxy.google.com/~r/breitbart/~3/opSvrjaxvYU/