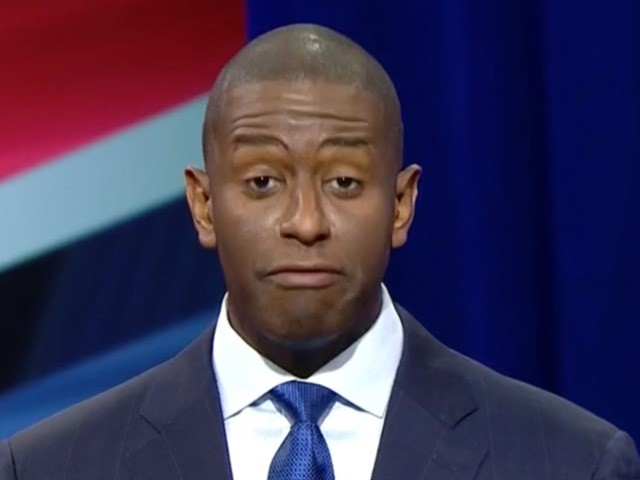 Tallahassee Mayor Andrew Gillum lied to Florida voters Sunday night.
According to a report published on Tuesday by the Tampa Bay Times, contrary to what Gillum, the Democratic nominee in Florida's upcoming gubernatorial election, claimed during Sunday's CNN debate, he did receive free tickets from an undercover FBI agent posing as a lobbyist.
Records provided to the Florida state ethics commission and released to the public Tuesday, show Gillum texting former lobbyist and confidant Adam Corey about getting tickets to the Broadway play Hamilton from "Mike Miller," the undercover FBI agent. Gillum attended the show while on a trip to New York City.
"Mike Miller and the crew have tickets for us for Hamilton tonight at 8 p.m.," Corey texted Gillum, according to the Times.
"Awesome news about Hamilton," Gillum replied.
Gillum was initially questioned about the FBI investigation by debate moderator Jake Tapper. The question led Gillum's Republican opponent, Ron DeSantis, to ask Gillum directly who paid for tickets. Initially, Gillum dodged the question.
Exchange as follows:
GILLUM: So, let me be very clear. First of all, I'm a grown man. My wife and I take vacations and we pay for our own vacations. I didn't get anything in life for free. I got it by working for it. So, if the congressman is suggesting that because I have friends that have — I don't choose their professions, that somehow that makes me in some way less than ethical —

DESANTIS: Did you pay for Hamilton?

GILLUM: — then he ought — then he ought to check himself.

(CROSSTALK)

DESANTIS: Well, Andrew, did you pay — did you pay for the trip?

GILLUM: Congressman, you have your time. I will take mine.

DESANTIS: Because you won't answer the question.

GILLUM: I will take mine.

DESANTIS: Right.
Shortly thereafter, Gillum doubled down.
"So, here's the direct answer," he said. "I don't take free trips from anybody. I'm a hardworking person. I know that may not fit your description of what you think people like me do, but I worked hard for everything that I've gotten in my life, and I don't need anybody handing me anything for free."
Gillum is also facing scrutiny for a trip to Costa Rica.
Follow Jeff Poor on Twitter @jeff_poor
http://feedproxy.google.com/~r/breitbart/~3/08hB9GCtxN4/