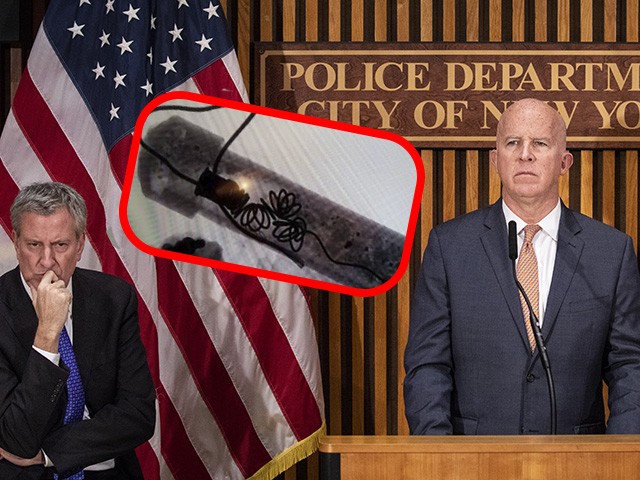 NBC New York reports multiple suspected crude pipe bombs sent to prominent Democrats and others were "not capable of exploding," yet law enforcement officials told the news outlet that some of the devices have not yet to been completely analyzed.
According to the officials, the some of the devices' defects ranged from "subtle" to "substantial" — a conclusion reached after initial reports, citing anonymous law enforcement officers, said the bombs appear to have been poorly constructed. At the beginning stages of the investigation, bomb technicians believed the devices possess the parts required to detonate.
It is currently unknown which recipients received flawed devices.
During a press briefing Thursday, New York officials were tight-lipped about whether the devices were functional but did confirm reports that the powder substance accompanying some of the devices did not pose a biological threat. Asked if the bombs posed any threat, NYPD Commissioner James O'Neill said, "We're taking this seriously. We are treating them as live devices… as far as hoax devices, we're not treating it that way."
Despite the scares, O'Neill assured there are no "current credible threats to any individuals, organizations or locations" in New York City, but he asked residents to still remain vigilant.
The Federal Bureau of Investigation (FBI) confirmed Thursday afternoon that some of the packages were sent through the mail. A U.S. postal official said law enforcement officers' search for additional suspicious packages has come up dry in the last eight hours, according to the Associated Press.
Americans are on edge after several leading Democrats, including former President Barack Obama and ex-Secretary of State Hillary Clinton, were sent apparent crude pipe bombs on Tuesday and Wednesday. U.S. Secret Service agents intercepted the packages before arriving at their intended recipients. CNN's New York City offices were evacuated after what was later determined to be an explosive device addressed to former CIA chief John Brennan was discovered. Earlier Thursday, federal officials confirmed two devices addressed to former Vice President Joe Biden were stopped at a Delaware mail facility. Veteran actor Robert De Niro and Rep. Maxine Waters (D-CA) also received apparent explosives.
On Monday, progressive billionaire George Soros received the first bomb hand-delivered to his Westchester County estate.
The White House strong condemned the attempted attacks, calling for the suspects to be caught and brought to justice. "We condemn the attempted violent attacks recently made against President Obama, President Clinton, Secretary Clinton, and other public figures," White House press secretary Sarah Huckabee Sanders said. "These terrorizing acts are despicable, and anyone responsible will be held accountable to the fullest extent of the law."
Speaking before supporters at a Wednesday evening rally in Mosinee, Wisconsin, President Trump denounced the attempted attacks and called on voters to settle their political disagreements "peacefully at the ballot box."
"There is one way to settle our disagreements," said President Trump. "It's called peacefully at the ballot box. That's what we want."
"Any acts or threats of political violence are an attack on our democracy itself," he added. "No nation can succeed that tolerates violence or the threat of violence as a method of political intimidation, coercion, or control."
http://feedproxy.google.com/~r/breitbart/~3/PdcGZbKKVt8/