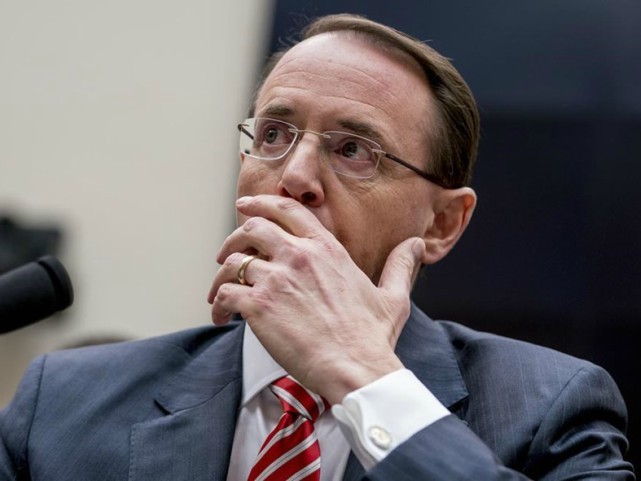 A new report claims Deputy Attorney General Rod Rosenstein offered to secretly tape President Donald Trump inside the Oval Office and wanted to "recruit" top administration officials to oust the president with a vote among Cabinet leaders.
The New York Times writes that Rosenstein shared these plans with "other Justice Department and FBI officials," all of whom relayed their accounts to the paper anonymously.
During a series of July 2017 meetings with fellow Justice Department and FBI officials, Rosenstein reportedly made the explosive suggestion of recording the president, and while the plot never materialized, he reportedly told then-FBI Deputy Director Andrew McCabe that he believed it was possible to convince Attorney General Jeff Sessions and then-Homeland Security Secretary John Kelly to later invoke the 25th Amendment.
Rosenstein denied the story in a statement to the New York Times. A DOJ spokeswoman, curiously, did not deny that Rosenstein suggested secretly taping Trump but instead provided an anonymous eyewitness who suggested the remark was in jest.
"The New York Times's story is inaccurate and factually incorrect," he said in a statement. "I will not further comment on a story based on anonymous sources who are obviously biased against the department and are advancing their own personal agenda. But let me be clear about this: Based on my personal dealings with the president, there is no basis to invoke the 25th Amendment."

A Justice Department spokeswoman also provided a statement from a person who was present when Mr. Rosenstein proposed wearing a wire. The person, who would not be named, acknowledged the remark but said Mr. Rosenstein made it sarcastically.

But according to the others who described his comments, Mr. Rosenstein not only confirmed that he was serious about the idea but also followed up by suggesting that other F.B.I. officials who were interviewing to be the bureau's director could also secretly record Mr. Trump.
This is a developing story.
http://feedproxy.google.com/~r/breitbart/~3/6P5Of8FUue8/