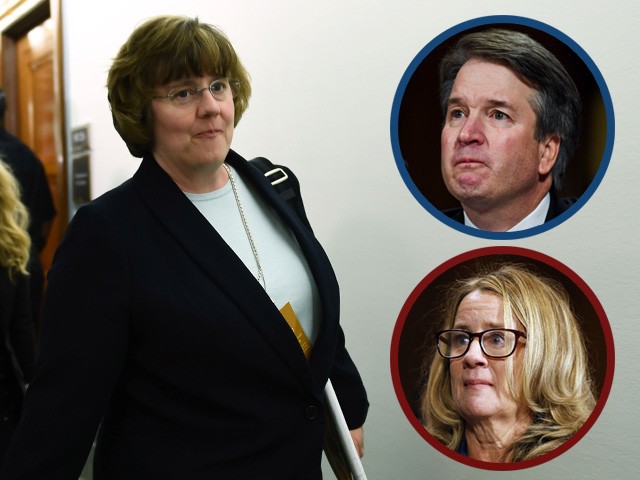 Arizona sex crimes prosecutor Rachel Mitchell told Republican senators in a conference meeting Thursday evening that she would not charge Supreme Court nominee Brett Kavanaugh after hearing testimonies of the Judge or his accuser Christine Blasey Ford.
Mitchell, who took a leave of absence from Maricopa County's Deputy County Attorney and division chief the County Attorney's Office's Special Victims Division to join the Senate Judiciary Committee's team of attorneys for the hearing, "broke down her analysis" of both testimonies to GOP lawmakers. In a nearly 30-minute presentation, Mitchell went over the "facts that were established and not established" and concluded that not only would she not charge Kavanaugh based on the record of evidence from both parties, but would not even pursue a search warrant for the judge, which in virtually all cases would require the standard of probable cause to be met, Politico reported.
Brooke Singman of Fox News quoted one source as saying "Mitchell was very clear with senators that based on evidence presented, she couldn't bring the case 'anywhere near a court room.'"
In a day like few others in Senate history, California psychology professor Christine Blasey Ford quietly recounted her "100 percent" certainty Thursday that President Donald Trump's nominee for the Supreme Court had sexually assaulted her when they were teenagers — and then Brett Kavanaugh defiantly testified he was "100 percent certain" he did no such thing.
That left senators to decide whether the long day of testimony tipped their confirmation votes for or against Trump's nominee in a deeply partisan fight with the future of the high court and possibly control of Congress in the balance.
Showing their own certainty, Republicans quickly scheduled a recommendation vote for Friday morning in the Senate Judiciary Committee, where they hold an 11-10 majority. They are hoping for a final Senate roll call next week, seating Kavanaugh on the court shortly after the October start of its new term.
In the committee's packed hearing room Thursday, for hours upon hours, both Kavanaugh and Ford said the alleged assault and the storm of controversy that has erupted 36 years later had altered their lives forever and for the worse.
Ford recounted for the senators of the alleged assault in a locked room at a gathering of friends when she was just 15. The memory — and alleged "uproarious laughter" during the act — was "locked" in her brain, she said. Ford delivered her testimony with deliberate certitude, though admitting gaps in her memory as she choked back tears at some points and said she "believed he was going to rape me." All of Ford's named witnesses, including high school close friend Leland Keyser, denied having any knowledge of the alleged incident. The 53-old professor says she does not know the date or location of the alleged incident.
Hours later, Kavanaugh passionately denied her allegation, striking a defiant tone and choking up several times, particularly when discussing his family. He decried his confirmation opposition as a "national disgrace."
"You have replaced 'advice and consent' with 'search and destroy,'" he said, citing the Constitution's language defining senators' duties in confirming high officials.
Kavanaugh, who has two daughters, said one of his girls said they should "pray for the woman" making the allegations against him, referring to Ford. "That's a lot of wisdom from a 10-year-old," he said. "We mean no ill will."
Following Kavanaugh's testimony, President Trump tweeted in support of the judge, making clear that he was standing shoulder to shoulder with his nominee. "His testimony was powerful, honest and riveting," the president wrote. "The Senate must vote!"
The Associated Press contributed to this report.
http://feedproxy.google.com/~r/breitbart/~3/Up0kXfSvhWo/