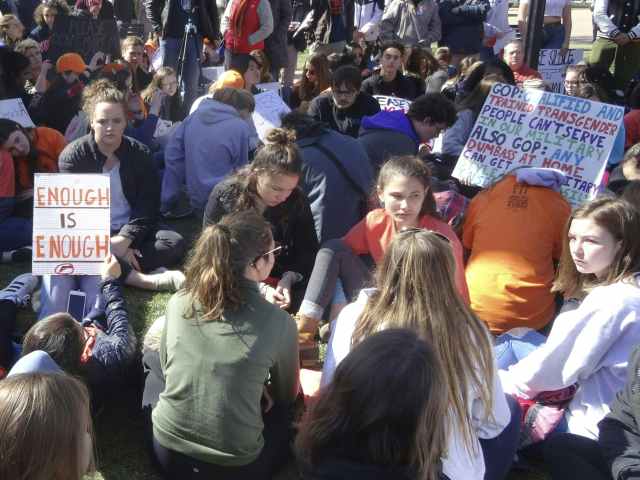 A teacher at a Philadelphia public high school has been accused of campaigning against Republican candidates during school hours.
A report from a local NBC affiliate revealed that a public high school teacher in Philadelphia has been accused of campaigning against the GOP during school hours. Fliers urging students to "vote to stop the Trump regime" were placed around Central High School in Philadelphia.
Val DiGiorgio, the chairman of the Republican Party of Pennsylvania is convinced that the fliers were posted by the head of Central High School's Social Studies department.
"Political activity such as this is specifically prohibited by the employee handbook for the School District of Philadelphia, and as such, further investigation into the matter is warranted," DiGiorgio said in a statement that was provided to the press.
"As Chairman of the Republican Party of Pennsylvania, I am also concerned about the liberal indoctrination of students in public schools, which are meant to be an apolitical place of learning, not a taxpayer-subsidized propaganda school," she continued.
In a statement, the Philadelphia school district said that they are investigating the situation to ensure that a teacher isn't using school hours for political activity.
"The School District of Philadelphia has a policy that prohibits school property and time from being used for political purposes," a district spokesperson said in a statement. "We take this policy seriously and, as November 6 nears, we will remind our employees of this policy."
In December 2017, a Kutztown University professor came under fire after she offered her students extra credit if they attended a local Democratic rally. "Please join your faculty as we rally against the GOP Tax Bill that has serious implications to you and on Higher Education. This is an opportunity to gain additional extra credit," Kutztown Professor Mauricia John wrote in an email to her students.
http://feedproxy.google.com/~r/breitbart/~3/tEUIK2EvS4A/