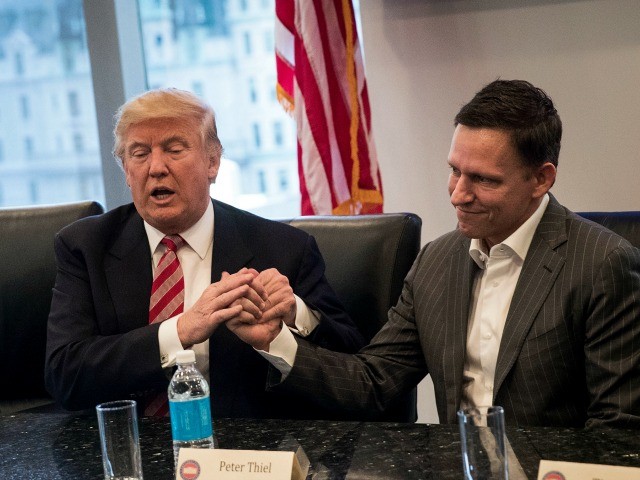 PayPal co-founder and prominent big tech supporter of President Trump Peter Thiel was reportedly the biggest donor to the Trump Victory Committee in the last quarter, donating $250,000.
According to the Mercury News, which described the donation as Thiel putting "his money where his mouth is," the donation "appears to be the first contribution by Thiel to the organization since the 2016 presidential campaign, when he forked over more than $1 million. He also donated $101,700 to the Republican National Committee July 10, according to a previously released FEC filing."
In the last quarter, United States Steel also donated $100,000, while former Trump attorney Marc Kasowitz donated $50,000.
In July, Thiel, who has previously described himself as a "proud" Republican, spoke at this year's Turning Point USA High School Leadership Summit, and in 2016, Thiel was a Trump delegate at the Republican National Convention.
Thiel also sat next to President Trump during the 2016 meeting with tech company leaders, where Trump declared Thiel was "ahead of the curve" and "very special."
Thiel has moved his company out of Silicon Valley, setting up shop in Los Angeles. During a speech in July, Thiel described the overwhelmingly progressive culture of Silicon Valley to be "like North Korea."
http://feedproxy.google.com/~r/breitbart/~3/hj2FGkcIysc/