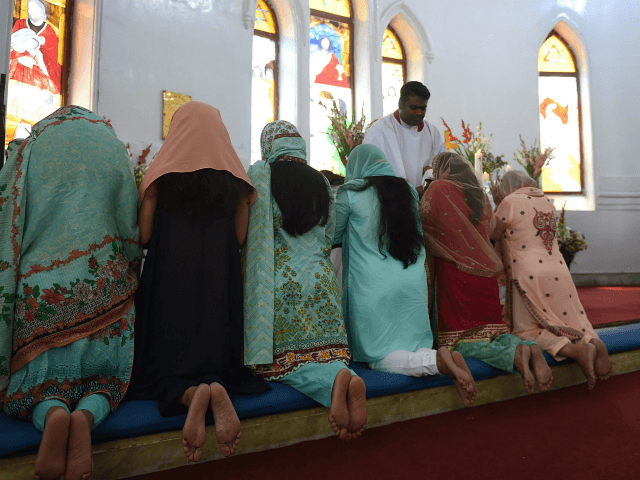 Pakistan's Christians are living in a state of fear in the wake of Asia Bibi's acquittal for allegedly committing blasphemy against Islam, the Telegraph reported over the weekend, echoing other assessments.
The Telegraph noted on Saturday:
More than a fortnight after Mrs Bibi, a Catholic farmhand, was acquitted of defaming the prophet Mohammed, she is still hiding in legal limbo, awaiting asylum in the West. Her case also hangs uncomfortably over the country's Christians. The violent reaction to a supreme court ruling to free the mother of five has once again highlighted the country's harsh blasphemy laws, but has also reminded many of Pakistan's Christians of how vulnerable they are.
"We live under fear, the whole country is under tension. People are afraid and anything can happen in this situation," Younis Masih, a 61-year-old retired Christian soldier from the Islamabad slum of France Colony told the Telegraph, adding:
There's no political backing here, no Christian leaders here. They feel isolated and weak and prefer not to talk about such issues. The government protects us, but blasphemy is such a sensitive issue we feel weak and in fear. People are helpless, they don't have any other option, but thank God this time the loss is not bigger. There have been protests, but they have been against judges and the government, not against Christians.
On November 11, CNN learned from some Pakistani Christians who preferred to remain anonymous for fear of reprisals, that Islamists had begun attacking random travelers in the Muslim country who identified themselves as Christians in the wake of Bibi's acquittal.
Pakistan's controversial blasphemy law is disproportionally used to target religious minorities, particularly Christians, according to human rights groups, which note that the statute is often used to settle personal disputes and vendettas.
The Pakistani Supreme Court's October 31 decision to overturn Bibi's 2010 death penalty verdict after she spent nearly eight years in prison gave way to violent protests orchestrated by the anti-blasphemy Islamist Tehreek-e-Labaik Pakistan (TLP) party.
Last week, the administration of Prime Minister Imran Khan and TLP reached an agreement to stop the protests that eventually evolved into riots.
Although Pakistan's top court cleared Bibi and ordered her release, she remains in protective custody in an undisclosed location in Pakistan after Khan agreed to allow a petition against the court's decision as part of the deal. The Muslim country's Supreme Court is Pakistan's court of last resort, implying no further appeals should occur following its rulings.
Nevertheless, Islamabad is prohibiting Bibi from leaving the country while the Supreme Court reviews petitions filed against the acquittal verdict.
The Khan administration also agreed not to block a TLP petition to add Bibi to a no-fly list. The Islamist party has threatened to kill Bibi, her lawyer, and judges who cleared her.
In January, the U.S. State Department added Pakistan to a watchlist for "severe violations of religious freedom."
The country's blasphemy law can carry a punishment of life in prison or death. Although Pakistan has yet to execute anyone over blasphemy, Islamists are known to take the law into their own hands, often killing suspects.
The U.K. has reportedly denied Bibi and her family asylum, but Italy, Spain, France, and Canada have allegedly opened their doors.
Sen. Rand Paul (R-KY), in an exclusive interview with Breitbart News, urged U.S. President Donald Trump to grant Bibi asylum.
In Pakistan, "Christians are very much beleaguered and so are Hindus," Sen. Paul, who long advocated for Bibi's release from prison, declared. "Any other minority religion [is] beleaguered in Pakistan and if ever there was a call for a refugee to be admitted into our country, I think this is one. "
While Khan defended Pakistan's blasphemy laws when campaigning this summer, the PM has repeatedly voiced his support for the Supreme Court's acquittal verdict.
http://feedproxy.google.com/~r/breitbart/~3/16B2TxQyR50/