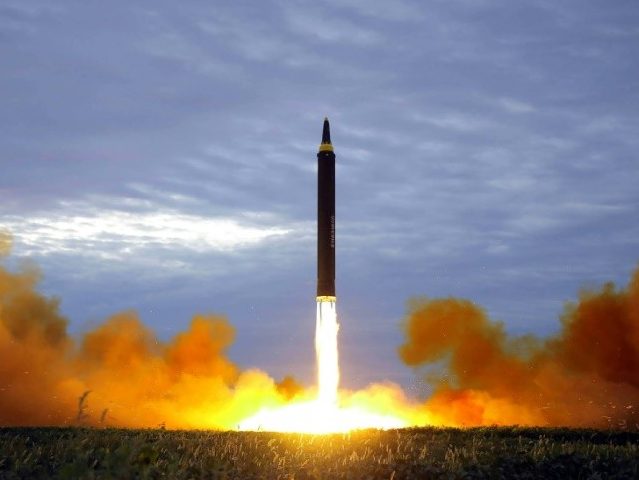 North Korea has failed to dismantle its key missile site further since August, South Korean news agency Yonhap reported, citing a U.S. website that monitors dictator Kim Jong-un's regime.
On Thursday, Yonhap noted, "North Korea has pledged to dismantle a missile engine testing site and a launch pad in Dongchang-ri as part of its stated commitment to denuclearize the Korean Peninsula."
Citing satellite imagery from October 31, the U.S. website 38 North reportedly determined that there has not been additional dismantlement activity at the key missile site since August.
In June, U.S. President Donald Trump and Kim reached an agreement to work together toward the complete, verifiable, and irreversible denuclearization of the Korea peninsula.
The Trump administration is pushing for denuclearization in exchange for sanctions relief and security guarantees.
North 38's revelation that North Korea has failed to keep its pledge to dismantle the missile engine testing site and a launch pad in Dongchang-ri came soon after the United States and South Korea resumed small-scale military exercises on Monday.
North Korea has blasted South Korea and the U.S. for restarting joint military exercises and for launching a working group to coordinate strategies for Pyongyang's denuclearization, the Korea Herald learned from Uriminzokkiri, a website run by Pyongyang.
In the wake of the joint military drill announcement, North Korea postponed high-level talks with the United States this week, U.S. Ambassador to the United Nations Nikki Haley announced Friday.
Voices of America (VOA) explained:
Secretary of State Mike Pompeo was due to meet Thursday with Kim Yong Chol, a senior adviser to North Korean leader Kim Jong Un, to discuss moving forward on a vague agreement signed back in June by Kim and U.S. President Donald Trump during their historic summit, which calls for Pyongyang to abandon its nuclear weapons program."
Haley reportedly downplayed the delay, saying, "I don't think there was some major issue" for the postponement.
On Wednesday, President Trump declared he is in "no rush" to finalize a deal with Kim to denuclearize the Korean peninsula.
"I would love to take the sanctions off, but they have to be responsive, too. It's a two-way street," Trump proclaimed.
Last week, North Korea threatened to revive its nuclear weapons program if the United States fails to lift its crippling financial sanctions against the regime.
"North Korea is also seeking a peace treaty with the United States and South Korea that will formally end the 1950-53 Korean War that split the communist North from the democratic South," VOA noted.
http://feedproxy.google.com/~r/breitbart/~3/jGI7TlrGIpE/