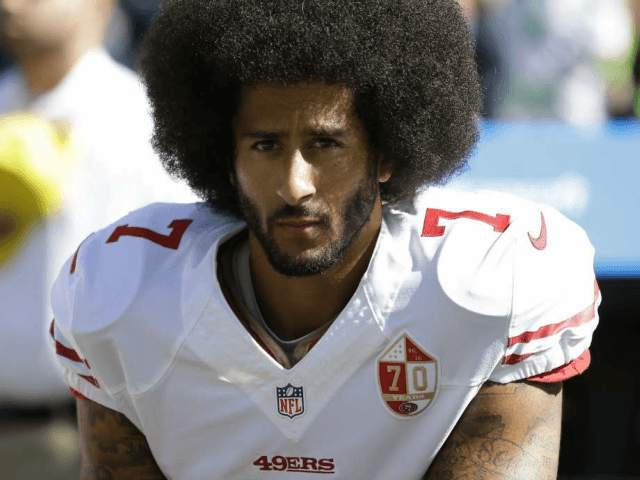 If you think that Carolina's recent signing of former anthem-protester Eric Reid means that Colin Kaepernick's signing must be just around the corner, you should think again.
According to CBS' Jason LaCanfora, despite the best efforts of Kaepernick's agents, no NFL teams are interested in signing the league's original anthem-kneeler.
According to NBC Sports:
Kaepernick's agents are calling, texting and emailing NFL teams, but those all have been either ignored or unreturned, CBS Sports' Jason La Canfora reported Sunday, citing sources with knowledge of the situation. So the quarterback, who tweeted his congratulations to former 49ers teammate Reid earlier in the week, still isn't likely to join a team this season.

La Canfora reported that Kaepernick continues to work out in the hopes of finding a team. He hasn't played in the NFL since the 2016 season with the 49ers, who aren't interestedin bringing back their former starter, even after Jimmy Garoppolo's season-ending knee injury. Coach Kyle Shanahan said as much Monday.

Some speculate Kaepernick's collusion suit against the NFL is a factor in teams not signing him, but that evidently wasn't the case with Reid, who's also involved in that case. Panthers general manager Marty Hurney told La Canfora that signing Reid "was purely a football decision," and new owner David Tepper didn't object to the signing.
While Kaepernick being part of the collusion grievance may not be a bar to him finding a new team, his presence as the face of Kike's new "Just Do It" ad campaign might be. While the Nike campaign has been well-received, specifically in the black community. It's not nearly as popular when polled among non-blacks.
In addition, the NFL audience has not been nearly as welcoming of Kaepernick's protests. NFL ratings crashed when Kaepernick began his protests in 2016, and only recently began rebounding after the movement nearly completely subsided. If the the player who began the protest movement were to re-emerge and, presumably, renew his protests. The damage to the league could be severe.
Follow Dylan Gwinn on Twitter @themightygwinn
http://feedproxy.google.com/~r/breitbart/~3/oepFMZd-48I/