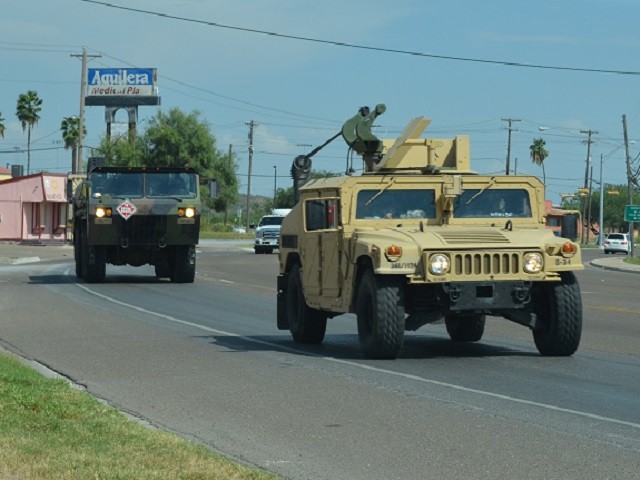 News reports claim that Secretary of Defense James Mattis will order an additional 800 troops to the U.S. border with Mexico in response to the new migrant caravan.
CNN and the Associated Press reported on Thursday that Defense Secretary James Mattis could order additional troops to the southern U.S. border as early as this week. CNN claims that officials said the final details on the deployment orders are being worked out. It is not clear if these will be additional National Guard troops or active duty military, the article states.
President Donald Trump hinted at the military response to the Central American caravan in a tweet on Thursday where he said, "I am bringing out the military for this National Emergency. They will be stopped!"
Brandon Judd of the National Border Patrol Council is right when he says on @foxandfriends that the Democrat inspired laws make it tough for us to stop people at the Border. MUST BE CHANDED, but I am bringing out the military for this National Emergency. They will be stopped!

— Donald J. Trump (@realDonaldTrump) October 25, 2018
The Associated Press broke the news of the possible deployment of 800 troops in a tweet Thursday morning:
BREAKING: AP source: Defense Secretary Mattis expected to sign order to send at least 800 troops to US-Mexico border.

— The Associated Press (@AP) October 25, 2018
Officials told CNN that the troops will not engage in "lethal operations to stop the migrants." The troops are expected to play support roles for Border Patrol agents and U.S. Customs and Border Protection officers who will be tasked with stopping the migrants from entering the U.S. The troops are expected to provide tents and medical care for border authorities in addition to additional manpower and logistics for shoring up border fencing and walls at points where the migrants are expected to attempt to cross.
The Department of Defense announced that Secretary Mattis is traveling to Europe on Thursday to attend a conference on regional security. It is not clear when a formal announcement of the deployment will be made.
#SecDef Mattis departs today for the 2018 #ManamaDialogue in #Bahrain to address the conference and discuss regional security. #SecDefTravels Travel advisory here: https://t.co/JYtrrnZCdb

— Dana W. White – DoD (@ChiefPentSpox) October 25, 2018
Since President Trump ordered National Guardsmen to the border in April, more than 2,000 National Guard troops have been deployed, the Department of Defense reported on Wednesday. Both air and ground resources have been deployed from across the nation to assist in securing the border. Current orders allow for the deployment of up to 4,000 National Guard troops.
Breitbart News reached out to the Department of Defense for confirmation of the reports. As of noon (EDT) on Thursday, Department of Defense officials would not confirm or deny the possible deployment order to Breitbart News.
CNN claims the additional troops will be in place next week.
Editor's Note: This is a developing story. The article will be updated as more information becomes available.
Bob Price serves as associate editor and senior political news contributor for Breitbart Border/Cartel Chronicles. He is a founding member of the Breitbart Texas team. Follow him on Twitter @BobPriceBBTX and Facebook.
http://feedproxy.google.com/~r/breitbart/~3/XZzd7MBev40/