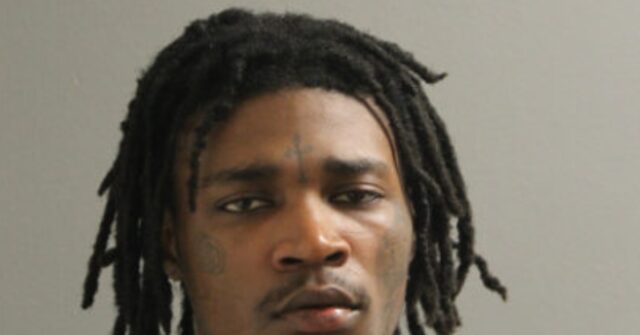 A man with several juvenile robbery convictions is reportedly accused of a recent carjacking in Chicago while he was on electric monitoring.
The incident happened outside a Little Village supermarket and prosecutor Victor Aberdeen detailed the case against Khalil Ingram, 20, during a bail hearing on Friday, CWB Chicago reported Saturday.
Prosecutors say he carjacked a woman Thursday while on electronic monitoring for a gun case and on juvenile parole for carjacking.

He had three more robbery adjudications as a juvenile, too, they say.https://t.co/xnd9dNIaTl

— CWBChicago (@CWBChicago) April 22, 2023
According to Aberdeen, a woman, 29, had arrived in the parking lot of the store on West Cermak to speak with her mother over the phone that morning when Ingram allegedly opened her car door.
He is accused of ordering the woman to exit the vehicle, then asking for her purse. However, she refused to give him the bag and he reportedly jumped inside the car and fled the scene with her belongings still inside, the outlet continued:
Among the contents were the woman's AirPods, which Chicago police pinged to track down the car within hours, Aberdeen said. When they found it, Ingram was allegedly using the car with his electronic monitoring bracelet firmly attached to his leg. He was wearing the monitor while on bail for a pending felony gun charge.

Chicago police detectives learned that the AirPods and Ingram's ankle monitor pinged along the same path during and after the hijacking, Aberdeen said.
Ingram was held without bail for violating bond regarding the pending gun case and is required to post a $15,000 bail deposit per the hijacking incident if he wants to be freed on electric monitoring.
As crime continues plaguing the residents of Chicago, far-left Brandon Johnson recently won his runoff campaign for mayor, Breitbart News reported April 4.
The problem of crime was one of the main issues during the runoff even though Johnson tried to avoid the debate while campaigning, the outlet said, noting it was not a surprise he did not want to address it:
According to the Chicago Tribune, in the wake of the death of George Floyd back in 2020, Johnson — who was a Cook County Commissioner at the time — introduced a resolution to "redirect funds from policing and incarceration to public services not administered by law enforcement." His "Justice for Black Lives" resolution passed overwhelmingly in July 2020.
Meanwhile, Breitbart News has covered extensively carjacking incidents in Chicago and across the nation.
https://www.breitbart.com/crime/2023/04/23/report-man-allegedly-carjacks-chicagoan-while-on-electric-monitoring-parole-for-same-crime/