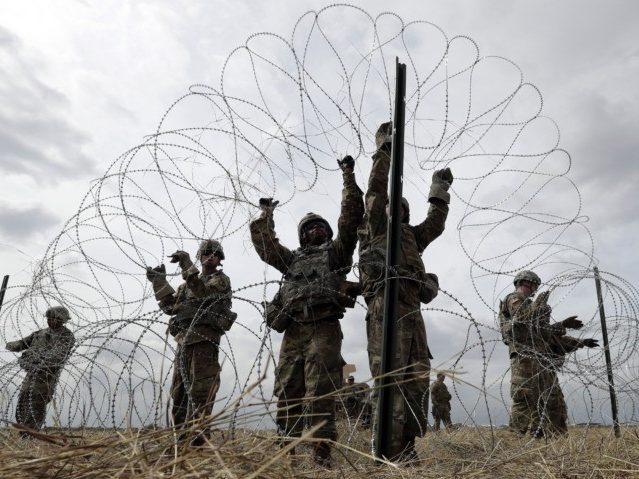 President Donald Trump's Chief of Staff John Kelly and Department of Homeland Security (DHS) Kirstjen Nielsen reportedly opposed the president's recent order which broadened the U.S. military's power on the southern border.
While deciding whether to sign an order that gives the more than 5,700 deployed military troops at the border the ability to "show or use of force (including lethal force, where necessary), crowd control, temporary detention, and cursory search," Kelly and Nielsen argued against the order, claiming Trump did not have the constitutional authority to enact such a plan, according to three unnamed sources from Politico.
During a White House meeting this week, the anonymous sources claim, Kelly and Nielsen attempted to convince the president that the order was not constitutional, while senior adviser Stephen Miller, President of the National Immigration and Customs Enforcement (ICE) Council Chris Crane, and President of the Border Patrol Union Brandon Judd argued in support of the order.
The sources told Politico that Kelly was the last administration official involved in discussions to support the border military order, saying Nielsen originally voiced opposition but vowed to support the plan when she discovered that Trump would sign the order.
In a response to the source's claims, Nielsen called the story a "complete fabrication," saying:
While a range of issues were discussed on a Monday call, the cabinet memo was not one of those topics. In reality, I have been clear: our agents and officers must have the ability to protect themselves, and to be protected by others, if they face critical situations on the border. I have been and will continue coordinating closely with Secretary Mattis to ensure that our people have the support and protection they need to do their jobs.
Nielsen — a staunch ally of Kelly — has thought to be on the outs of the Trump administration for some time. Insiders have repeatedly suggested to Breitbart News that should Nielsen be fired by the president, Kelly's resignation could follow.
Trump's reported frustration with Nielsen has hinged on the lack of progress from DHS to curb illegal immigration at the U.S.-Mexico border. In October, for instance, more than 51,000 illegal aliens crossed the southern border. This is the highest level of illegal immigration at the border since Trump was elected in November 2016.
Last month, federal immigration officials in Arizona said they are seeing record levels of illegal immigration from Mexico in the region.
The inflow of record illegal immigration sits on the backdrop of a DHS and White House Legislative Affairs Office that has failed to secure funding for Trump's proposed southern border wall, the central campaign promise of his 2016 run for president.
http://feedproxy.google.com/~r/breitbart/~3/ANF32n7n0a0/