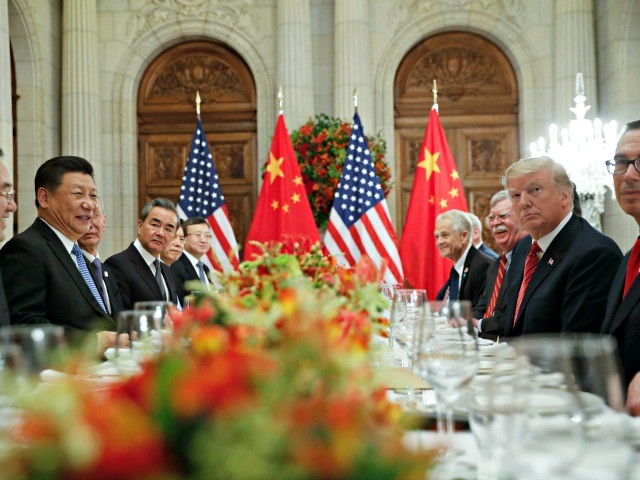 National Security Adviser John Bolton says he knew in advance of the arrest December 1st arrest of Huawei chief financial officer Sabrina Meng, according to National Public Radio's Steve Inskeep.
"I knew in advance. That is something we get from the Justice Department," Bolton reportedly told NPR.
The arrest occurred in Vancouver, Canada on the same day President Donald Trump and top administration officials had dinner with their Chinese counterparts in Buenos Aires. Bolton attended the dinner. This likely means that he knew of the likely impending arrest even as he sat across from the Chinese delegation.
Earlier Thursday, Breitbart News reported that "a source familiar with Justice Department procedures said it is unlikely the U.S. attorneys would have acted without consulting other agencies in pursuing the international arrest. U.S. national Security officials were aware of the arrest prior to the news breaking Wednesday evening, a different source said. It was not clear if they were aware of the arrest beforehand, however."
News: @AmbJohnBolton tells @NPR of the arrest of a Chinese tech exec: "I knew in advance. That is something we get from the Justice Department." This means Bolton knew, at least in general terms, of the pending action as he joined Trump and Xi for dinner at G20. @MorningEdition

— Steve Inskeep (@NPRinskeep) December 6, 2018
Inskeep also reported that Bolton said he did not know if Trump knew of the arrest beforehand.
The dinner was originally scheduled to begin at 6:30 P.M. It was unexpectedly moved up to 5:30 P.M. The administration did not provide an explanation for the scheduling change. There has been speculation that the dinner might have been rescheduled to avoid having Chinese officials learn of the arrest prior to sitting down with U.S. officials.
http://feedproxy.google.com/~r/breitbart/~3/Q_kt-0TZpX8/