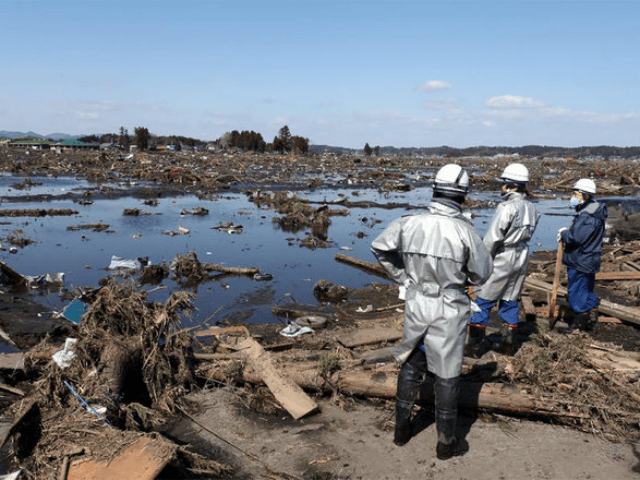 Environmental authorities in Japan are planning to flush over one million tons of radioactive water into the ocean after running out of space to contain it, according to a report Tuesday from the Daily Telegraph. 
According to documents the British newspaper claims to have had access to, the country has run out of space to store the water contaminated after coming into contact with fuel that leaked from three nuclear reactors after the plant was destroyed by an earthquake and ensuing tsunami on March 2011.
Now, environmental authorities reportedly plan to release approximately 1.09 million tonnes of the contaminated water in the Pacific Ocean, sparking a furious backlash from local residents and environmental groups. The move has also attracted criticism overseas, as residents in South Korea and Taiwan complain that radioactive material could wash up on their shores.
Japanese officials say that nearly all radioactive materials in the water are at "non-detect" levels, although government documents reportedly contradict this claim by revealing that their use of an Advanced Liquid Processing System (ALPS), owned and operated by the nuclear arm of Hitachi Ltd, failed to detect dangerous levels of radioactive elements including iodine, ruthenium, rhodium, antimony, tellurium, cobalt, and strontium.
Another document also obtained by the Telegraph reportedly indicated that Japanese authorities were well aware of this, but chose not to act on it. This finding was backed up by a study in Japan's Kahoko Shinpo newspaper, which established that levels of two carcinogenic substances – iodine 129 and ruthenium 106 – surpassed acceptable amounts in 45 out of the 84 samples taken last year.
The Tokyo Electric Power Co (Tepco) admitted during public hearings last month that around 80 percent of the water stored at the Fukushima site contained radioactivity above safe and legal levels. Tokyo first revealed their intention to release the water in 2016, citing some scientists who argued it would have a negligible environmental impact. However, a recent study found that the water is still too unsafe to be released into the ocean.
"TEPCO says it has disclosed the data on its website. But it is virtually impossible for an uninformed third-party information seeker to detect such problems in the massive reams of data," read a recent editorial in the Asahi Shimbun. "The company deserves to be criticized for having deliberately concealed these inconvenient facts."
"The ministry, for its part, should be held accountable for its failure to ensure appropriate disclosure of the information by TEPCO," it continues. "The subcommittee should be faulted for concentrating its attention almost exclusively on tritium."
The disaster at Fukushima Daiichi Nuclear Power Plant in Ōkuma, caused by the 9.0-magnitude earthquake in March 2011, is considered the world's worst nuclear accident since Chernobyl in the then-Soviet Union in April 1986. The quake also led to three separate nuclear meltdowns, hydrogen-air explosions, and the release of radioactive material, forcing a mass evacuation of the surrounding area.
Many people are still suffering from the effects of radiation sickness. Last month, the Japanese government announced the first official death attributed to the nuclear disaster after a 50-year-old former worker died of lung believed to be linked to radioactive poisoning. Many families affected by the incident have seen their lives torn apart amid concern over the effects of radiation.
Follow Ben Kew on Facebook, Twitter at @ben_kew, or email him at bkew@breitbart.com.
http://feedproxy.google.com/~r/breitbart/~3/ECjXeJ68eX8/