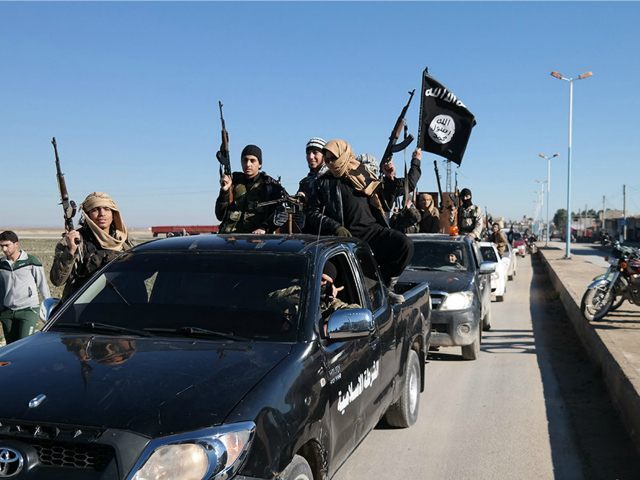 The Islamic State (ISIS/ISIL) is reviving a "capable insurgency" in Iraq and Syria to ultimately enable a "second resurgence," the Institute for the Study of War (ISW) warned this week, echoing other assessments.
On Tuesday, ISW reported:
The Islamic State of Iraq and al Sham (ISIS) is reconstituting a capable insurgent force in Iraq and Syria despite efforts to prevent its recovery by the U.S. Anti-ISIS Coalition … ISIS is waging an effective campaign to reestablish durable support zones while raising funds and rebuilding command-and-control over its remnant forces. On its current trajectory, ISIS could regain sufficient strength to mount a renewed insurgency that once again threatens to overmatch local security forces in both Iraq and Syria.
Although the U.S.-led coalition and local forces have largely pushed ISIS out of Iraq and Syria, the group still holds small pockets of territory particularly along the border that separates the two countries.
In a map depicting ISIS's current operating areas as of the beginning of this month, ISW showed that Iraq and Syria are riddled with support zones for ISIS, mainly in and around the border between the two nations.
Early this year, the U.S. intelligence community cautioned in its annual Worldwide Threat Assessment that ISIS was "all but thwarted," adding, "Over the next year, we expect that ISIS is likely to focus on regrouping in Iraq and Syria."
The intelligence community's predictions are coming to fruition, according to ISW.
Echoing other assessments, ISW pointed out that while the U.S.-led coalition and local forces have decimated ISIS's territorial caliphate in Iraq and Syria, the group remains a menace to the region and beyond.
The think-tank reported:
The U.S. Anti-ISIS Campaign has not eliminated the global threat posed by ISIS despite largely accomplishing its stated objectives in Iraq and Syria. The campaign aimed to destroy ISIS's physical caliphate and "drive down [its] capability" to the point where local forces could maintain security with limited international support.

In Iraq, the U.S. Anti-ISIS Coalition accomplished this mission by April 2018 … In Syria, the U.S. and its local partner forces are now attacking a final ISIS territorial stronghold near the Syrian-Iraqi border. ISIS has nonetheless already restructured its operations to return to a regional insurgency.
In August, the Pentagon acknowledged that ISIS still counts with the support of nearly 30,000 fighters across Iraq and Syria and remains "more capable" than al-Qaeda.
ISIS is "well-positioned to rebuild and work on enabling its physical caliphate to re-emerge," the Pentagon warned.
ISW stressed that ISIS is regrouping and rearming in preparation "for a future large-scale insurgency in both Iraq and Syria."
"The U.S. and its allies must take action to set the political conditions necessary to sustain a long-term campaign against ISIS in Iraq and Syria," the think-tank declared. "ISIS otherwise threatens to return yet again in a form even more dangerous and more capable than its rise to global prominence in 2014."
Citing the Center for Strategic and International Studies (CSIS), the Washington Times reported on Sunday that there are more ISIS-linked foreign fighters in Southeast Asia, mainly the Philippines, than there ever were during the peak of the U.S.-led wars in Afghanistan and Iraq.
"As we execute victories on the ground in Iraq and Syria, [Islamic State] is going to disperse" to other areas across the world, including Southeast Asia, Greg Poling from CSIS told the Times, adding, "The Southern Philippines is still an ungoverned region."
In March, the U.S. State Department conceded that ISIS is "adapting" to the fall of their physical caliphate in Iraq and Syria by intensifying their activity "in all" other corners of the world, including Africa, Bangladesh, and Southeast Asia.
U.S. Secretary of Defense Jim Mattis recently conceded that ISIS is not defeated and the U.S. military will have to remain in Iraq and Syria until there is a local security capable of preventing the terrorist group from making a comeback.
He told reporters in Paris on Tuesday, "ISIS has collapsed inward, in their own way, they have reinforced a center as they've been forced into what is now less than 2 percent of their original territory that they held."
"So it's going to still be a tough fight. I don't want anyone to be under any illusions. And we're together in that fight. And we will be successful, but it's still going to take some time," he continued.
http://feedproxy.google.com/~r/breitbart/~3/Nr5KazH55Mg/