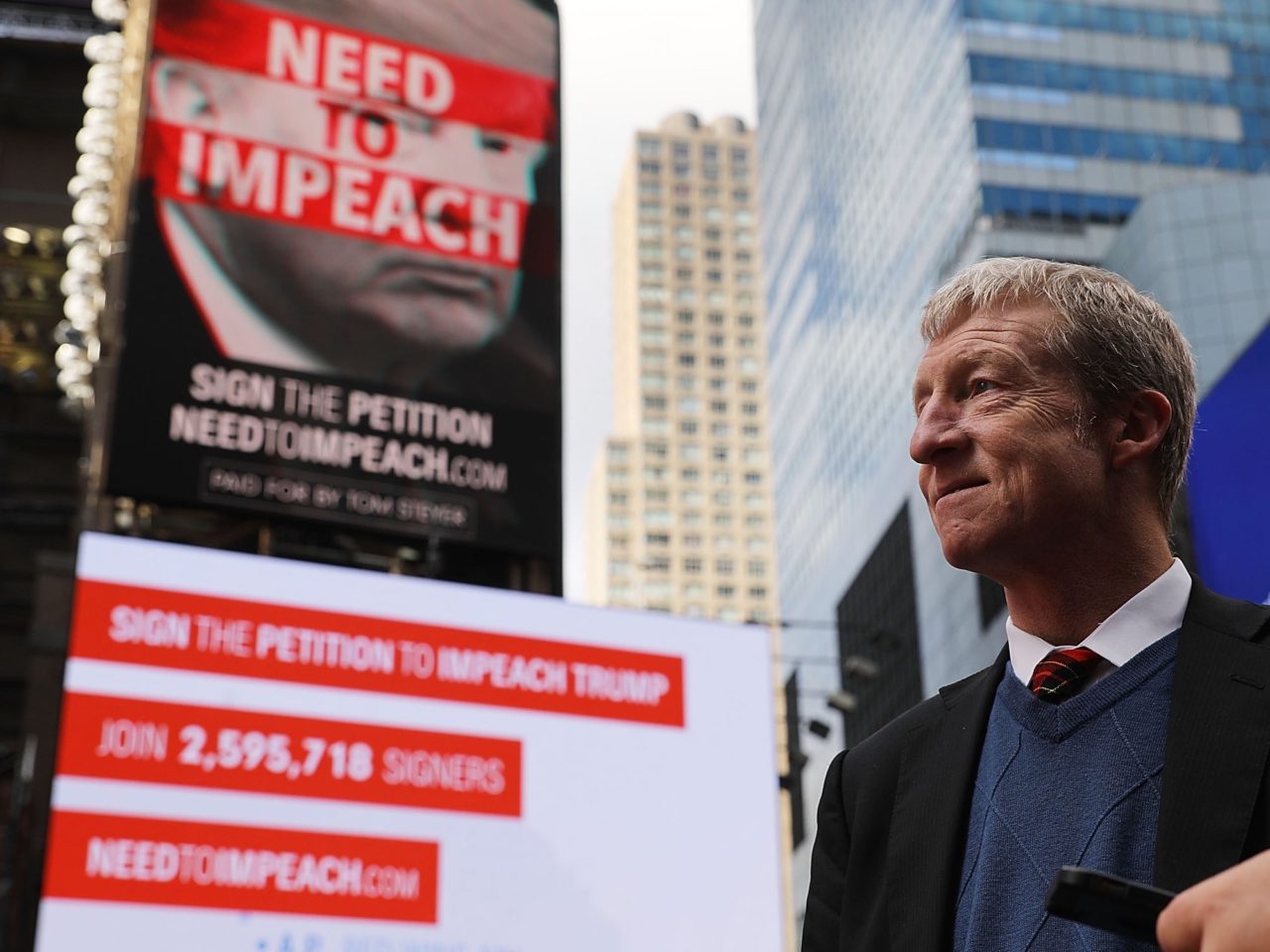 Left-wing billionaire Tom Steyer, who spent millions in the 2018 midterm elections pushing for the impeachment of President Donald Trump, is preparing to launch a campaign for president in 2020, according to Politico.
Politico's Alex Thompson wrote Monday evening:
The former billionaire investor, climate activist and impeachment agitator Tom Steyer will take several steps toward a 2020 presidential bid Tuesday.

That will include a six-figure web ad buy on Twitter, Facebook, YouTube, and Instagram along with a full-page ad in USA Today and other Gannett newspapers outlining a political platform, a revamped TomSteyer.com, and the announcement of five town halls across the country, the first of which will be in the crucial early primary state of South Carolina, according to copies of the ad and platform provided to POLITICO.

The first town hall is set for Dec. 4 in Charleston, S.C., and the next will be in Fresno, Calif., sometime in December, according to Aleigha Cavalier, senior communications adviser for TomSteyer.com who also works for Steyer's climate-focused group NextGen America. There will be one town hall for each of the "5 rights" on Steyer's platform: the right to an equal vote, to clean air and water, to learn with pre-K education through college, to a living wage, and to health.
Steyer has spent hundreds of millions of dollars on other Democrats' campaigns in recent years. He was the party's top donor in 2014 — buying few wins but allowing him to force the party to stage an all-night talk session about climate change on the Senate floor.
In 2018, he spent over $100 million on an effort to push for impeachment, reinforcing that message the day after the election in a New York Times op-ed.
Joel B. Pollak is Senior Editor-at-Large at Breitbart News. He is a winner of the 2018 Robert Novak Journalism Alumni Fellowship. He is also the co-author of How Trump Won: The Inside Story of a Revolution, which is available from Regnery. Follow him on Twitter at @joelpollak.
http://feedproxy.google.com/~r/breitbart/~3/ioHVWvmKIUs/