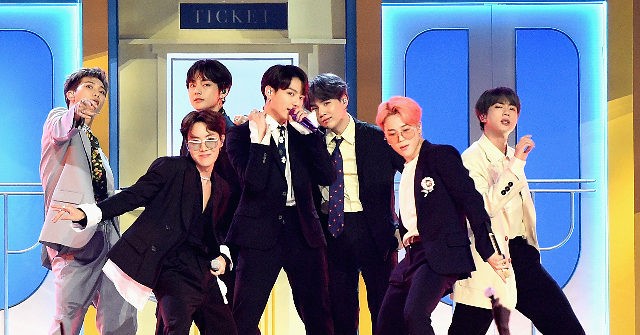 The K-pop band BTS has reportedly not paid the $8 charge to restore its Twitter checkmark after losing it Thursday.
The checkmark disappeared from the group's personal account which as of Friday morning has 48.3 million followers, Insider reported. The outlet noted thousands of other celebrities have also lost their checkmarks.
"It's a different story on the band's official account and that of its management agency, Hybe, both of which are designated as Twitter Blue subscribers," the report said.
The group's official account currently boasts 42.9 million followers.
"Other K-Pop groups have also refused to give Musk $8 for Twitter Blue. Blackpink, the four-member powerhouse girl group under YG Entertainment, and Twice, a girl group under JYP Entertainment, both did not have blue checkmarks on their personal accounts at press time," the Insider article said.
In March, Elon Musk's Twitter said it would terminate the platform's legacy verification system. The move would erase user's blue checkmarks if they did not pay for its Twitter Blue subscription service, according to Breitbart News.
The phasing out began April 1, the outlet continued:
In the past, the verification program was created for notable people on Twitter, such as celebrities, government figures, journalists, and others, but was inconsistent and biased against conservatives. The verification of news feeds, fan accounts, parodies, and similar accounts was not permitted. However, the new Twitter Blue system will change the requirements for receiving a blue check mark by no longer requiring accounts to be accepted by leftist Silicon Valley employees.
Meanwhile, Twitter also removed the New York Times' verification badge after the newspaper refused to pay $1,000 a month to be a verified user, Breitbart News reported April 3.
"Other major news organizations, including CNN, the Los Angeles Times, the Washington Post, BuzzFeed, Politico, and Vox, have followed the New York Times' lead and decided not to pay for the verification badges for their accounts or the accounts of their reporters," the outlet said.
https://www.breitbart.com/entertainment/2023/04/21/report-hugely-popular-k-pop-band-fails-to-pay-fee-to-restore-twitter-checkmark/