GOP leaders have withdrawn $1.2 million in promised campaign funding for Kansas Rep. Kevin Yoder, who is facing a tough reelection race after endorsing a series of job-outsourcing programs in an August vote, according to TheHill.com.
The news site reported:
The National Republican Congressional Committee (NRCC) has canceled more than $1 million in planned advertising aimed at helping Rep. Kevin Yoder (R-Kan.) in the coming weeks.

The decision to cut advertising, described to The Hill by a source familiar with the NRCC's strategic thinking, is a hint that Republicans are pessimistic about Yoder's chances of holding his Kansas City-area district.
Election experts have rated Yoder's race as a toss-up, and a recent poll by the New York Times of 494 people in Yoder's district showed him losing 43 percent to 51 percent to his far-left opponent, Sharice Davids. The wide gap is noteworthy because Davids has joined the far-left Abolish ICE! campaign, which would allow a large number of migrants to flood into blue-collar and white-collar job-markets nationwide.
However, Yoder is getting much support from pro-migration business donors, such as the Congressional Leadership Fund, said TheHill.com:
The Congressional Leadership Fund, the largest super PAC backing Republican candidates, has spent about $1.8 million on television advertisements on his behalf. The group still has $750,000 booked in the Kansas City media market for the election's final four weeks.
Yoder's race is important because he chairs the homeland defense appropriations committee, and used his power on August 25 to add a series of outsourcing and pro-migration amendments to the 2019 funding bill. The bill is now slated for passage after the election when many reelected, retiring or defeated legislators will feel little pressure from voters.
But if Yoder is defeated in November, other legislators may quietly ask the GOP leadership to withdraw Yoder's outsourcing measures before the December floor vote.
Yoder's cheap labor programs include the offer of fast-track citizenship to at least 250,000 Indian visa-workers who have taken many jobs once held by middle-class American technology workers. Yoder's plan would remove the long-standing "country caps" for green cards.
Those caps ensure that Indian outsourcing companies can only provide about 12,000 green cards to their low-wage Indian visa-workers each year. If the caps are removed, the Indian outsourcing companies could provide green cards to roughly 70,000 Indian workers each year, or 700,000 workers over the next decade. The immediate beneficiaries would be the 300,000 Indian visa-workers and their 300,000 family members who are now stuck in a backed-up line for green cards. But the huge influx of workers would help flood the labor market for many American graduates with software or healthcare degrees.
Yoder's August funding bill also raises the number of imported blue-collar visa-workers by tripling the H-2B program for seasonal workers up to almost 200,000 workers per year, and by expanding the H-2A farm labor program.
Yoder's bill also defunded any action by border officials to implement Attorney General Jeff Sessions' asylum reforms, although Yoder has hinted he may drop the curbs on Sessions' asylum reforms. The flow of asylum-seeking migrants added at least 400,000 low-wage workers to the labor market in 2017.
Yoder's endorsement of the "country cap" plan is risky because his district includes many American college-graduates and a growing number of Indian outsourcing workers.
Companies in his district employ roughly 1,400 visa workers in white-collar jobs sought by young Kansas graduates, according to H1BFacts.com, which organizes federal data to show the number of H-1B visa-workers in each legislator's district.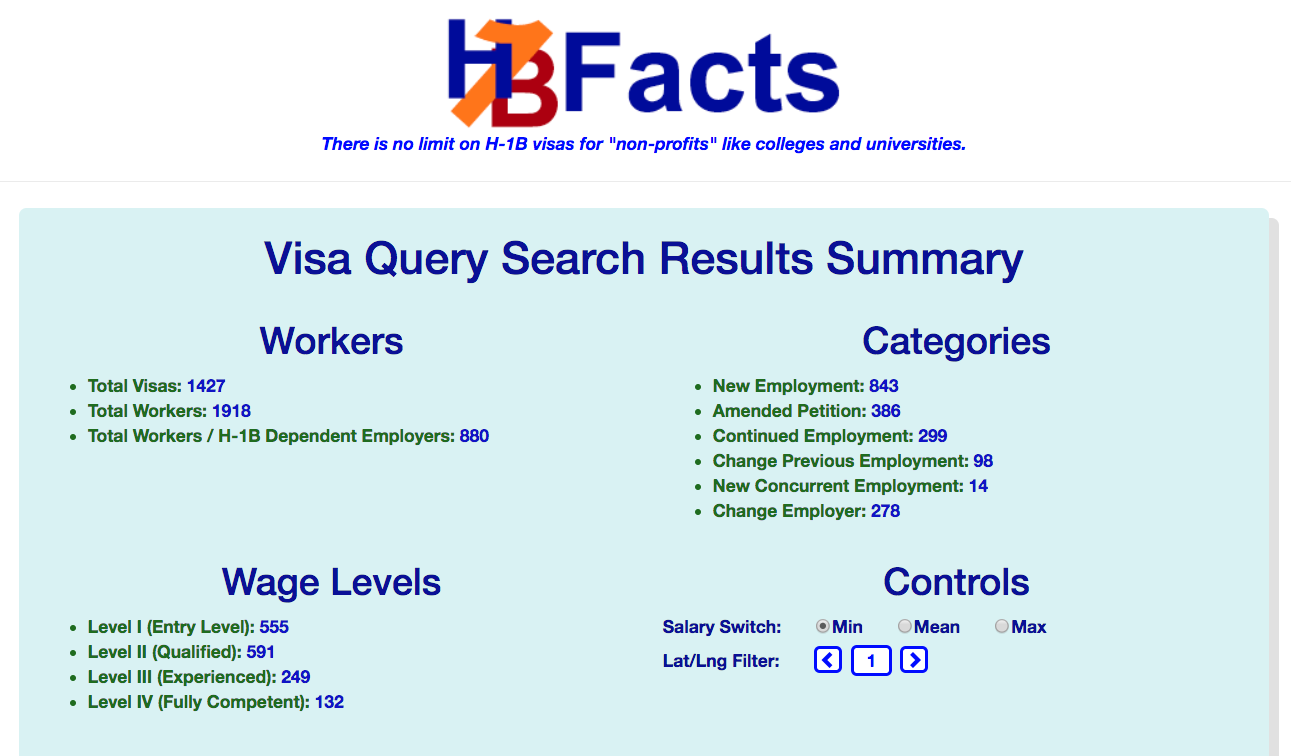 The H1BFacts site shows that employers in Yoder's district asked the federal government in 2017 for approval to import 830 foreign white-collar workers. They included laboratory assistants and interior designers who would be paid just merely $30,000 per year, accountants who would be paid $42,000, programmers who would get $56,000 and hospital doctors who would get just $65,000.
Yoder's plan is being applauded by the business groups which will be able to import a huge extra stream of cheap replacement workers. That inflow would help their investors offset the wage-raising impact of President Donald Trump's lower-immigration/higher-wages policy.
But the country-caps plan is opposed by American technology-workers who have lost prior jobs because U.S companies transferred their work to Indian outsourcing firms. In September, a group of U.S. professionals rented two local billboards to protest Yoder's HR 393 legislation which includes the country-caps plan.
The American People are NOT happy with the direction @RepKevinYoder has taken towards immigration, especially with a bill called HR392/S281. This bill would destroy job opportunities and wages for American Workers! @JessicaV_CIS @NeilMunroDC @lindsaywise @sharicedavids @KCStar pic.twitter.com/aan2Qy5zxZ

— Roger Ross (@logicalgong) September 24, 2018
Nationwide, the U.S. government helps companies keep a population of roughly 1.5 million visa-workers in American white-collar jobs. The various visa programs — H-1B, L-1, J-1, H4 EAD, OPT, TN — allow employers to hire cheap foreign doctors, therapists, programmers, engineers, accountants, designers, architects, managers, recruitment specialists, P.R. experts, and many other professionals.  These huge labor programs boost the stock market by lowering salaries for many American college graduates and also push many Americans into lower-tech, lower-wage careers, such as journalism.
Four million young Americans will join the workforce this year, but the federal government will also import 1.1 million legal immigrants, and allows an army of at least 2 million blue-collar and white-collar visa-workers to work U.S. jobs, alongside asylum-claiming migrants, refugees, and illegal aliens.
That policy shifts wealth from young people towards older people by flooding the market with cheap white-collar and blue-collar foreign labor.
That flood of outside labor spikes profits and Wall Street values by cutting salaries for manual and skilled labor offered by blue-collar and white-collar employees.
The policy also drives up real estate prices, widens wealth-gaps, reduces high-tech investment, increases state and local tax burdens, hurts kids' schools and college education, pushes Americans away from high-tech careers, and sidelines at least 5 million marginalized Americans and their families, including many who are now struggling with opioid addictions. Immigration also pulls investment and wealth away from heartland states because investment flows towards the large immigrant populations living in the coastal states.
http://feedproxy.google.com/~r/breitbart/~3/vuyKOXF0RuI/