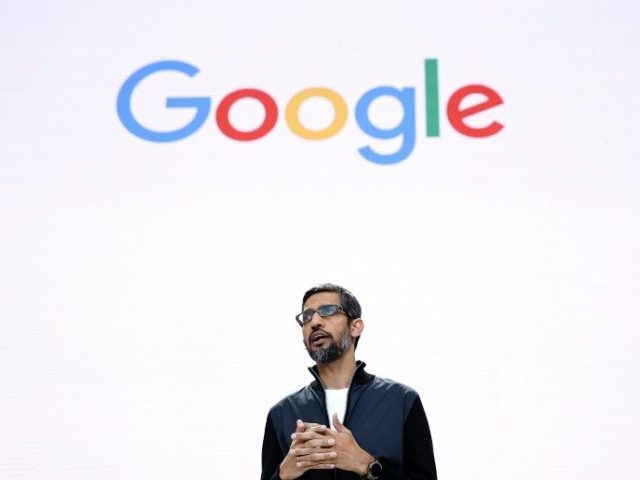 Google CEO Sundar Pichai will appear at a House Judiciary Committee hearing, but only after the midterm elections on Nov 6, according to a report in the Wall Street Journal.
The WSJ reports that Pichai will meet privately with Republican lawmakers this Friday to address concerns about the company's market power and bias against conservatives. In the past month, Google has been rocked by a series of bias scandals, including Breitbart News' publication of a 1-hour leaked video featuring the dismayed response of Pichai and other executives to the election of Donald Trump.
WSJ also reports that Pichai is expected to testify at a hearing of the House Judiciary Committee, but only after the November midterm election.
"Google has a lot of questions to answer about reports of bias in its search results, violations of user privacy, anticompetitive behavior and business dealings with repressive regimes like China," said House Majority Leader Kevin McCarthy (R., Calif.), who is organizing Friday's meeting. He added that Mr. Pichai has "kindly" agreed to field Congress's questions with Republican members on Friday. Mr. Pichai also is expected to appear at a House Judiciary Committee hearing after the November election.

Mr. McCarthy has complained that Google works with China to censor the internet but has canceled a contract with the U.S. military. Google this year said it wouldn't renew a contract with the U.S. Department of Defense over employee concerns about aiding military projects; the company has also tested a mobile version of its search engine that would adhere to China's strict controls over content, a person familiar with the matter said.

….

"I look forward to meeting with members on both sides of the aisle, answering a wide range of questions, and explaining our approach. These meetings will continue Google's long history of engaging with Congress, including testifying seven times to Congress this year," Mr. Pichai said.
Pichai has previously refused to testify before the Senate.
Allum Bokhari is the senior technology correspondent at Breitbart News. You can follow him on Twitter, Gab.ai and add him on Facebook. Email tips and suggestions to allumbokhari@protonmail.com.
http://feedproxy.google.com/~r/breitbart/~3/L7Vvz-N-6M8/