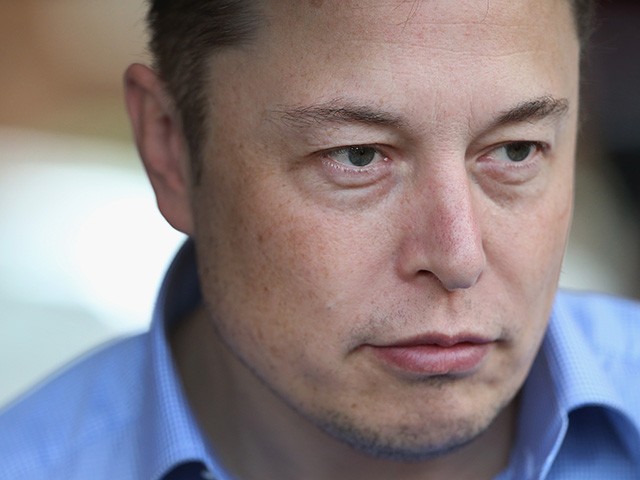 Tesla CEO Elon Musk reportedly pulled out of a settlement with the Securities Exchange Commission (SEC) over charges of fraud at the last minute, because it would "not be truthful to himself."
Breitbart News reported yesterday that Tesla CEO Elon Musk is being sued by the SEC for making false and misleading statements in August when he tweeted that he had "funding secured" to take his electric-car manufacturer private at $420 a share.
Am considering taking Tesla private at $420. Funding secured.

— Elon Musk (@elonmusk) August 7, 2018
Now new reports claim that Musk was actually offered a no-guilt settlement deal by the SEC, but Musk pulled out of the agreement last minute. CNBC reports that under the terms of the deal Musk would be forced to pay a fine but he would not have to admit guilt in the matter, and he would be barred from acting as the chairman of Tesla for two years — although he would still maintain his role as CEO.
If Musk had accepted the agreement, Tesla would have been forced to appoint two new independent directors to its board of directors. CNBC reports that Musk did not accept the deal because in doing so he would "not be truthful to himself," and would not be able to "live with the idea that he agreed to accept a settlement and any blemish associated with that."
Musk stated on Thursday that the SEC's allegations were "unjustified" stating: "I have always taken action in the best interests of truth, transparency and investors. Integrity is the most important value in my life and the facts will show I never compromised this in any way."
Tesla's board of directors released a statement which reads:
Tesla and the board of directors are fully confident in Elon, his integrity, and his leadership of the company, which has resulted in the most successful U.S. auto company in over a century. Our focus remains on the continued ramp of Model 3 production and delivering for our customers, shareholders and employees.
Bernstein analyst Toni Sacconaghi commented on what this could mean for Tesla in the future saying: "In the absence of a settlement, the mere possibility that Musk could be removed as CEO (or entirely from Telsa), is likely to cast a shadow on the stock, and make it extremely difficult for the company to raise capital (either private or public).
Citigroup downgraded Tesla stock on Friday from "neutral" to "sell" citing the SEC's lawsuit. The Department of Justice is also reportedly still investigating Tesla.
Lucas Nolan is a reporter for Breitbart News covering issues of free speech and online censorship. Follow him on Twitter @LucasNolan or email him at lnolan@breitbart.com
http://feedproxy.google.com/~r/breitbart/~3/FH-tqi9aOoA/