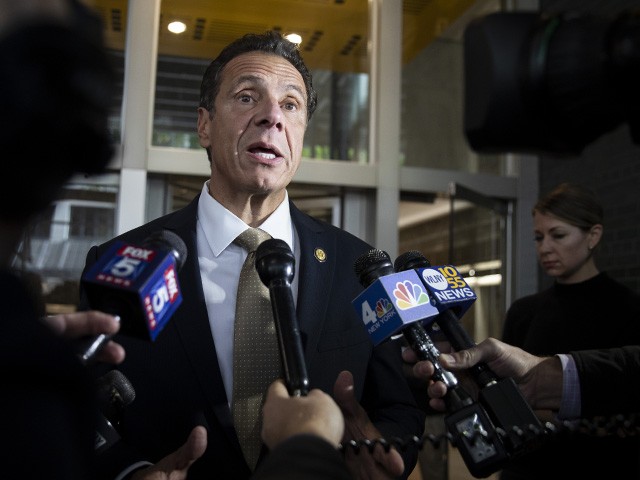 New York Governor Andrew Cuomo (D) on Wednesday said his Manhattan office received a "device" following reports that the U.S. Secret Service intercepted "possible explosive devices" sent to leading figures in the Democratic Party.
During a press briefing on the bomb scare which prompted CNN's New York City bureau staffers to evacuate its Time Warner Center headquarters, Cuomo told reporters "A device has been sent to my office in Manhattan, which we were just informed about, and that device is also being handled."
NEW: New York Gov. Andrew Cuomo says a "device has been sent to my office in Manhattan, which we were just informed about. That device is also being handled." https://t.co/adOF3fq9y4 pic.twitter.com/38bEHJQKZl

— ABC News (@ABC) October 24, 2018
The announcement would later be proven false by local law enforcement officials.
An NYPD spokesman said a suspicious package sent to Gov. Andrew Cuomo's office was not a bomb, unrelated to other devices. "The earlier suspicious package at Governor Cuomo's office in midtown has been cleared by NYPD personnel. It was unrelated. And there was no device of any kind," the NYPD's J. Peter Donald tweeted.
The earlier suspicious package at Governor Cuomo's office in midtown has been cleared by NYPD personnel. It was unrelated. And there was no device of any kind

— J. Peter Donald (@JPeterDonald) October 24, 2018
According to reports, the package sent to Cuomo's office contained a thumb drive with information of the Proud Boys.
NEW: This is the package sent to @NYGovCuomo office containing a thumb drive which has information about the Proud Boys, a right wing group invited to speak in Manhattan earlier this month by the Metropolitan Republican Club. It is NOT an explosive device. pic.twitter.com/RKgsGzcg2t

— Zack Fink (@ZackFinkNews) October 24, 2018
As previously reported, Secret Services officials announced earlier that agency personnel recovered packages addressed to former President Barack Obama and former Secretary of State Hillary Clinton.
"We are fine, thanks to the men and women of the Secret Service who intercepted the package addressed to us long before it made its way to our home," Clinton said at an event Wednesday in Miami.
A package addressed to Obama was intercepted in Washington, D.C., where the former president lives.
"The packages were immediately identified during routine mail screening procedures as potential explosive devices and were appropriately handled as such," the Secret Service said. "Both packages were intercepted prior to being delivered to their intended location. The protectees did not receive the packages nor were they at risk of receiving them."
A suspicious device was also found in the mailroom at the Time Warner Center in Manhattan, addressed to CNN, where the news network has offices. The building was evacuated.
In Sunrise, Flordia, police told WTVJ-TV they were investigating a suspicious package that arrived at the congressional office of Rep. Debbie Wasserman Schultz (D-FL). A Broward Sheriff's Office bomb squad unit and firefighters responded to the building. The devices, which appeared to be working explosives, were enclosed in a manila envelope with a return address to Wasserman Schultz. The package had stamps and signatures on them, as well.
CNN reported that the package found at Wasserman Schultz's office was addressed to former U.S. Attorney General Eric Holder, but it was returned to her office because it had the incorrect address. Authorities said the same return address was used for the suspicious packages sent to the Clintons and Obama.
Wasserman Schultz is the former chairwoman of the Democratic National Committee who resigned from her post in 2016 after leaked emails from the committee were published by Wikileaks.
The offices of the San Diego Union-Tribune were briefly evacuated after a stack of suspicious-looking packages were found there.  Sen. Kamala Harris (D-CA) also has an office in the building.
It turned out to be a false alarm.
On Monday, an explosive device was found in the New York mailbox of George Soros, a billionaire philanthropist. His home is nine miles away from the Clintons' home.
Reacting to the bomb scares, White House press secretary Sarah Sanders said in a statement, "We condemn the attempted violent attacks recently made against President Obama, President Clinton, Secretary Clinton and other public figures.
"These terrorizing acts are despicable, and anyone responsible will be held accountable to the fullest extent of the law. The United States Secret Service and other law enforcement agencies are investigating and will take all appropriate actions to protect anyone threatened by these cowards," she said.
President Donald Trump retweeted a statement from Vice President Mike Pence condemning the attacks.
"We condemn the attempted attacks against former Pres. Obama, the Clintons, @CNN & others. These cowardly actions are despicable & have no place in this Country. Grateful for swift response of @SecretService, @FBI & local law enforcement. Those responsible will be brought to justice," Pence said on Twitter.
Other Republicans started to speak out Wednesday about the rash of bomb scares.
"I stand with all Americans in condemning today's attempted acts of domestic terrorism," Senate Majority Leader Mitch McConnell said in a statement. "As we continue to learn more, Americans are united in gratitude for the first responders – the Secret Service, the Postal Service, and other law enforcement – who protect our leaders and public figures from such unconscionable acts."
The United Press International contributed to this report. 
http://feedproxy.google.com/~r/breitbart/~3/stQXLJECH1M/