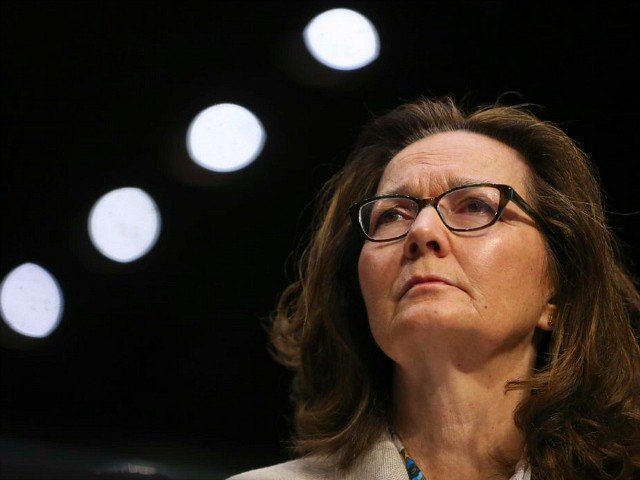 Conflicting reports
 emerged Wednesday about whether CIA Director Gina Haspel was given an opportunity by Turkish officials to hear the audio recording that allegedly captured Jamal Khashoggi's death on October 2 inside the Saudi consulate in Istanbul.
The Washington Post cited "people familiar with her meetings" who said Haspel did hear the tape. She is due to brief President Donald Trump on her findings on Thursday.
The Washington Post qualified its report by describing the audio as "purportedly capturing the interrogation and killing of journalist Jamal Khashoggi," but later quoted a "person familiar with the audio" who said it was "compelling" evidence against the Saudis.
Reuters also cited "two informed sources" who said Haspel listened to the audio while she was in Turkey. These sources implied Haspel is the first U.S. official to hear the recording.
As with most other aspects of the case, the audio has been the subject of conflicting rumors flowing from Turkish officials through Turkish media. It has variously been described as intelligence captured by bugs planted by Turkish intelligence in the Saudi consulate, a recording made by Khashoggi's Apple Watch, or the record of a Skype call made by an official in Riyadh who oversaw the murder.
The most horrific descriptions of the recording claim it captured seven minutes or more of torment before Khashoggi died; in the most extreme accounts, the man's screams were recorded as he was dismembered alive.
Turkey's Hurriyet Daily News on Thursday described the audio as a "murder tape," even though it almost certainly is a digital recording, and cited other Turkish media sources that said Haspel was also shown "video recordings related to the murder."
Haspel is scheduled to brief President Trump on Thursday. The Washington Post quoted speculation from Bruce Riedel of the Brookings Institution, formerly a CIA official, that Congress will want a report from Haspel as well.
"It will be pretty hard for her to say no because at a minimum the intelligence committees can ask her to come in secret, but even if it's a secret session, it will leak fast," Riedel predicted.
CNN saw storm clouds gathering over the White House as the president becomes increasingly exasperated with the Saudis and the "worst cover-up ever," as he pithily described it on Tuesday. The looming oil sanctions against Iran add more pressure to the situation since Saudi oil production will be essential to offset the loss of Iranian products in the global marketplace.
Saudi prosecutors on Thursday said they believe Khashoggi's killers "carried out their deed with premeditation," which is a major shift from the official narrative of a "fistfight" gone wrong. The fistfight story had very few buyers outside Riyadh, but it was a necessary fiction for the Saudis because any admission of premeditation naturally invites the question of who authorized the operation.
Turkey might have guarded the audio closely until now because confirming its existence and disclosing the details will reduce the options available to everyone involved, from Ankara and Riyadh to Washington. The official line from Foreign Minister Mevlut Cavusoglu on Thursday was that his government has "shared with those who sought additional information some of the information and findings that the prosecutor has allowed us to share."
http://feedproxy.google.com/~r/breitbart/~3/u0T96rCAy60/