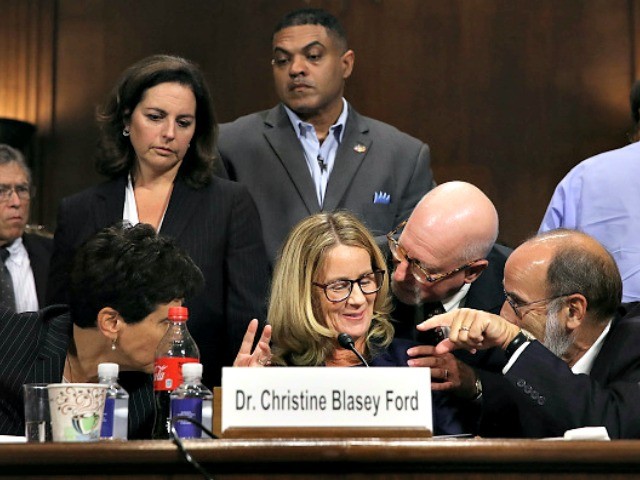 Philip Wegmann of the Washington Examiner reported Saturday that attorneys representing Christine Blasey Ford, who is accusing Judge Brett Kavanaugh of groping her at a high school party over 25 years ago, raced last week to find anyone who could swear affidavits about the meaning of terms in Kavanaugh's high school yearbook such as "Devil's Triangle."
Wegmann reported:
The subject line of the email was "corroboration needed." It came the day before Supreme Court nominee Brett Kavanaugh sat before the Senate Judiciary Committee to address allegations of sexual assault.

Andrea Caputo Rose, executive of a Washington, D.C.,-based legal recruiting firm called Rose Legal Search, was scrambling to find someone to corroborate the meaning of certain entries in Kavanaugh's high school yearbook. Anyone who could confirm the salacious meaning, Rose wrote in an email obtained by the Washington Examiner, should contact Debra Katz, the lawyer of one of Kavanaugh's accusers.

"Debra Katz needs to find people who are familiar with what the slang terms used by Brett Kavanaugh in his yearbook page meant – such as FFFF – Devil's Triangle – and Renate Alumnus," Rose wrote. "If you can speak to any of these and are willing to sign an affidavit, please contact her at [redacted] and [redacted]."

Rose did not responded to numerous requests for comment. A spokeswoman for Katz told the Washington Examiner that "Debra Katz did not know about this email or its contents before Ms. Rose sent it, and did not ask for it to be sent."
The affidavits were apparently not obtained before last Thursday's Senate Judiciary Committee hearing, but Sens. Patrick Leahy (D-VT) and Sheldon Whitehouse (D-RI) questioned Kavanaugh about his yearbook, regardless.
Democrats are trying to accuse Kavanaugh of perjury after he identified the term "Devil's Triangle" as a drinking game, and said that the term "boofing" referred to flatulence.
Critics say that "Devil's Triangle" refers to a sexual threesome between two men and one woman, and "boofing" refers to anal sex.
Former FBI director James Comey referenced those claims in a tweet:
Small lies matter, even about yearbooks. From the standard jury instruction: "If a witness is shown knowingly to have testified falsely about any material matter, you have a right to distrust such witness' other testimony and you may reject all the testimony of that witness …"

— James Comey (@Comey) September 28, 2018
Comey, an avowed opponent of President Donald Trump, has faced questions about whether he misled Congress about leaking information to the media.
Joel B. Pollak is Senior Editor-at-Large at Breitbart News. He is a winner of the 2018 Robert Novak Journalism Alumni Fellowship. He is also the co-author of How Trump Won: The Inside Story of a Revolution, which is available from Regnery. Follow him on Twitter at @joelpollak.
http://feedproxy.google.com/~r/breitbart/~3/BusWC0q1r7A/