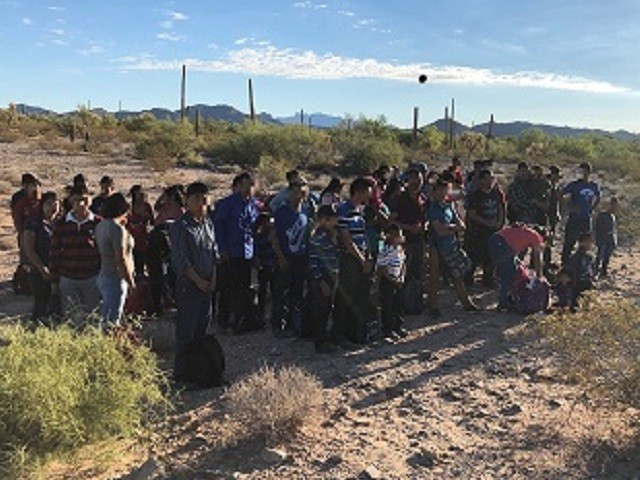 Local charity groups in southern Arizona report that "huge groups" of migrants recently apprehended by Border Patrol agents are being released into their care.
Breitbart Texas reported that Tucson and Yuma Sector Border Patrol officials described the illegal crossing of massive numbers of families and unaccompanied minors as a "humanitarian crisis." The number of these classifications of migrants doubled in recent months. It appears this is forcing another round of catch and release by U.S. Customs and Border Protection (CBP).
A group of more than 100 migrants showed up at a Tucson church over the weekend, the Arizona Daily Star reported Monday. Volunteers scrambled to set up a makeshift shelter in their gym and provided clothes, food, and toys.
Catholic Community Services' Teresa Cavendish told the local newspaper that about 700 migrants — including pregnant women and parents with children — appear to be being released by CBP officials as "part of a national directive."
Cavendish said that Yuma Sector officials were also releasing migrants who are expected to be taken to the Phoenix area.
Breitbart Texas reached out to Yuma and Tucson Sector officials for confirmation of the migrant releases. Due to the Columbus Day federal holiday, a response was not immediately available.
Yuma Sector Chief Patrol Agent Anthony Porvaznik recently told Breitbart Texas, "This is a humanitarian crisis that is impacting border security. Criminal entities are lining their pockets while exploiting a vulnerable population, filling our stations and diverting our national security efforts."
The newspaper reported there is not enough bed space for the massive numbers of migrants being apprehended by Border Patrol agents along the Arizona border with Mexico. Those who appear to pose no security risk are required to provide their intended destination in the U.S. and report to an immigration officer near that destination within a few weeks. Some of the migrants are reportedly wearing ankle monitors equipped with GPS tracking technology.
The church groups are reportedly assisting the migrants in reaching family members at their destination who can then make travel arrangements. The most cited destinations appear to be Texas, Tennessee, and Florida, the newspaper reported.
The organizers are facing problems obtaining transportation for the migrants as bus service is overwhelmed by the numbers of families and the number of scheduled runs being reduced because of storms in the southeastern U.S.
"Buses are sold out by the time they get here," Cavendish told the reporter.
Border Patrol officials in the Yuma and Tucson Sectors reported near doubling of the number of migrant families and unaccompanied minors who are risking their lives to cross the Arizona desert in the heat of the summer.
A recent report released by U.S. Customs and Border Protection (CBP) reveals that the illegal crossing of Family Unit Aliens (FMUA) and Unaccompanied Alien Children (UAC) increased from 13,181 in Fiscal Year 2017 year-to-date (YTD) reports to 25,911 in Fiscal Year 2018 – a 98 percent increase, according to the August Southwest Border Migration report. Yuma and Tucson Sector officials reported these classes of migrants are crossing in large numbers from Mexico into the southern Arizona desert where at least 83 migrants died during calendar year 2018.
Yuma Sector officials reported the largest increases in both FMUA and UAC categories. The apprehension of FMUAs in the Yuma Sector increased from 5,429 in FY2017 to 12,367 — a 128 percent increase, CBP officials stated. UAC apprehensions almost doubled in this sector, rising from 2,534 in FY2017 to 5,060.
Tucson Sector officials also witnessed a doubling in the number of family units apprehended in the desert. During the first 11 months of FY2017, agents arrested 1,907 families who illegally crossed from Mexico into the U.S. This more than doubled to 3,860 during the same period in FY2018, officials reported. Unaccompanied minors actually outnumbered family units during FY2018 in this sector. Agents 4,624 UACs in FY2017 — up from 3,311 in FY2017 (a 40 percent increase).
Bob Price serves as associate editor and senior political news contributor for Breitbart Texas. He is a founding member of the Breitbart Texas team. Follow him on Twitter @BobPriceBBTX and Facebook.
http://feedproxy.google.com/~r/breitbart/~3/bcfs6CXmtcU/