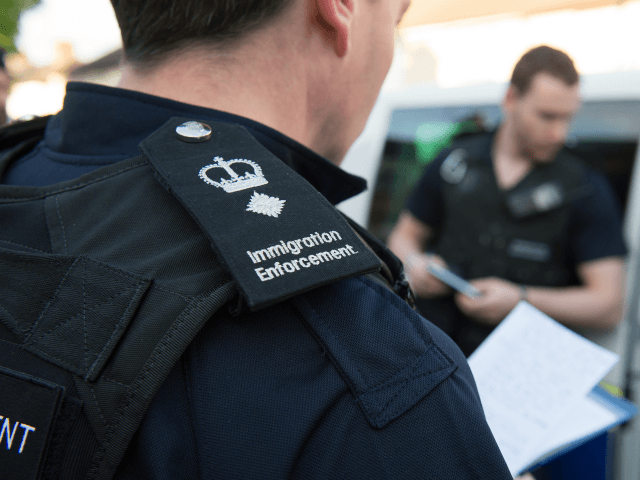 The government has been urged to reject 'Windrush'-related pressure to dismantle migration controls after a new study revealed Britain's illegal immigrant population is seeing an annual net rise near equivalent to the size of the regular British Army.
Migration Watch UK said the scale of illegal immigration was "considerably worse than the government admits and very little is being done about it", in a 22-page report which notes that the number of people thought to reside illegally in Britain exceeds one million.
Looking at visa overstayers, detected clandestine arrivals (persons who, for example, arrived illegally by lorry), and failed asylum seekers who do not leave the country, the think tank calculated a gross addition of more than 105,000 people to the illegal immigrant population each year.
With only about a third (35,200) of this figure deported or leaving the country of their own accord each year, Britain has been seeing a net rise of around 70,000 to its illegal immigrant population each year, equating to 700,000 people in a decade.
Most Brits Still Support 'Hostile Environment' to Illegal Immigrants After Windrush Scandal https://t.co/JHsrdsGemI

— Breitbart London (@BreitbartLondon) May 2, 2018
Reporting a "troubling" decline in the number of deportations in the past 14 years, during which time less than half of people whose applications for asylum were rejected have left the UK, Migration Watch called for a significant boost to the funding and resources for border enforcement amongst a number of other measures to stem illegal immigration, which it stressed is "a major public concern".
"Effective removal mechanisms are essential to the credibility of border controls," says the paper, which also details a number of loopholes relating to regularisation of residence status that should be closed, and suggests the issue of ID cards should be revisited.
"The controversy arising from the Windrush Affair has masked the continued and serious failure of the authorities to remove hundreds of thousands of people who have no right to be here," asserted the migration watchdog, referring to political fallout earlier in the year which saw Amber Rudd resign as Home Secretary.
Commenting, Lord Green of Deddington, Chairman of Migration Watch UK, said: "The scale of illegal immigration to Britain is a scandal that has gone on for too long.
"The government must not cave in to opposition attempts to 'weaponise' Windrush against legitimate and effective measures to tackle overstaying. These measures are supported by nearly 80% of the public, and rightly so."
Government to Give Up Tracing Illegal Migrants via NHS Records https://t.co/CPT350ONZe

— Breitbart London (@BreitbartLondon) May 10, 2018
The Windrush row concerned migrants from the West Indies who came to Britain before the system of Commonwealth citizenship was scrapped, but who failed to acquire or hold on to the necessary papers when their status was safeguarded in the Immigration Act of 1971.
Months of newspaper reports revealing a number of these people had been wrongly denied healthcare, lost their jobs, or were threatened with deportation after rules brought in required landlords, hospitals, businesses, and civil society to proactively prove that their tenants, the people they treat, and their employees are in Britain legally, led to politicians, campaigners, and the media demanding authorities cease trying to enforce immigration laws.
The Home Office suspended the so-called 'hostile environment' pro-law and order policy over the summer, while open borders activists and LGBT lobbyists cheered Virgin airlines' announcement that it would no longer take part in deporting illegal immigrants as having reflected "a profound shift in public opinion on deportation since the emergence of the Windrush scandal".
Despite the championing of this line from a variety of quarters, YouGov polling found overwhelming support for rules requiring migrants to show documents proving their right to be in Britain, with only 15 percent opposed.
Following the fallout, Communities Minister Lord Bourne announced an annual 'Windrush Day' for "ensuring that we all celebrate the diversity of Britain's history" by commemorating the contribution of migrants from the West Indies and their descendants "in making Britain a stronger nation", on June 22 each year.
The Migration Watch study comes less than a week after Breitbart analysis of immigration figures for Europe noted the number of arrivalsacrosss the Mediterranean for 2018 so far had hit the 70,000 mark — significantly down on the levels seen during the migrant crisis, but nevertheless equivalent in size to the British army having landed on Europe's shores.
Labour Campaign Says UK Needs Open Borders Because Brits are 'Old and Creaky' https://t.co/gUYRzNNVCt

— Breitbart London (@BreitbartLondon) September 14, 2017
http://feedproxy.google.com/~r/breitbart/~3/Zr5wxTkbBFE/